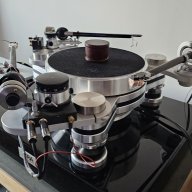 Member Sponsor & WBF Founding Member
Figuratively and literally hit the wall in terms of record (and tape) storage space. Just ordered 10 finished cherry wood record crates including base and top from Tony's Woodworking. If all goes well, should have them in about two or so weeks! Now will have a space for those homeless records (and yes, going to start pruning a few too!).
Here's a link for those interested in some inexpensive solutions other than milk crates that I've found!
http://www.tonyswoodshop.com/
What's everyone else using to store their software?