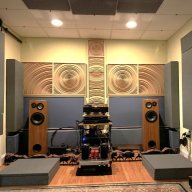 Jul 30, 2015
1,164
671
445
70
Superb job by Bill Thalman of Music Technology, Inc. in Springfield, VA on the 2nd and most ambitious upgrade (3rd photo from left) of my (made in 2004) Pathos TT RR. The attached photos show the differences between the stock amp and the modified versions. No changes in circuit design, just upgraded parts and wire. Note that the Pathos factory was helpful with both the 2011 and 2020 mods.

The Pathos TT is one of the best and most celebrated integrated amps of all time, and arguably the best implementation of Pathos' unique Inpol circuit. Nevertheless it was built to a price point and therefore didn't feature premium parts. Many years ago Nick Doshi of Doshi Audio was a factory authorized repair tech for Pathos, and when I asked the Pathos factory about performance improvements they suggested several parts upgrades and recommended I contact Nick Doshi to do the work. The result is shown in the middle photo, where you can see (among other things) that generic capacitors have been replaced with Mundorf and Clarity Cap. The modified amp sounded significantly better than stock - lower noise floor, better pace, improved bass heft, less sibblance, and more. It was good enough in fact that even after going to an audio show I had no itch to upgrade....for a decade.

I took the TT to Bill Thalman in 2020 for repair, but since he would have it open I decided to do another round of upgrading, this time in an attempt to make it the best amp it could be by using top shelf parts. The list includes Dueland Cast PIO Tinned Copper Foil capacitors (the huge ones), Bybee Music Rails (near the heat sinks), Yamamoto teflon tube sockets, Stage III Concepts silver and Dueland tinned copper hookup wire, Vishay Z-foil resistors, etc. Because of the amp's age I also replaced the main and power boards and other parts with the latest versions, which Pathos says will give me a sonic improvement by themselves. It is breaking in now and I will report on how it sounds. Again I am floored by Bill's work which looks OEM.