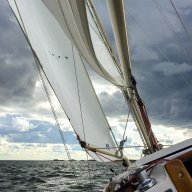 Dec 7, 2011
10,294
7,763
1,565
This is where the videos superimposed on the owners own written impressions, add value. If the owner is telling us that the videos are representative of what he hears from his system live, then we should take him at his word.

if we can hear a difference through the videos when there is only one variable changed, we should be able to conclude even though these videos do not sound the same as his system live, the difference heard in the videos is reflective of the impact the new component has on the overall system sound.

I think, in some rare instances, the videos can be more demonstrative of the change in one's system than the written description.

I must say that I am astonished that the simple change of one power cord is so clearly heard through these videos. I heard dramatic system sound changes by replacing power cords in my own system but never tried recording the comparison and I am surprised the iPhone picked this up so clearly.

The interesting thing is how different listeners respond differently to the same affect. Some will prefer the change while others will not. These videos can often stimulate discussion.
Last edited: