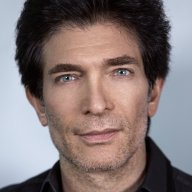 Site Co-Owner, Administrator
Jan 25, 2015
7,997
2,379
680
Partnering with Scott Walker Audio, Philip O'Hanlon, the beloved impresario of On a Higher Note, and the North American distributor of Gryphon Audio Designs, hosted a room festooned with sleek black Gryphon components. Fortunate to have a large room, Philip positioned the speakers far away from the front wall, which allowed the system to develop the best sound-staging I heard at the show.
Powered by a Gryphon Antileon EVO stereo amplifier the sound was very dynamic.
Synergistic Research provided all of the cabling, the line conditioners and the acoustic room treatments.
Overall this was one of my favorite rooms at the show.
Last edited: