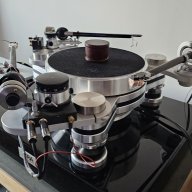 Member Sponsor & WBF Founding Member
I just started ripping my Sheffield vinyl collection, using the DIN EQ that Myles was able to get from Doug Sax, who did the mastering for all the D2D albums that Sheffield did. I was looking at the album notes and found an interesting corroboration for at least part of the DIN EQ. As some of you may know, the DIN EQ differs from RIAA in that the high frequency roll over occurs later than with RIAA (50 microseconds vs 75 microseconds) so if a DIN EQ recording is played back on RIAA it will sound duller. In Sheffield S10 The Missing Linc, the liner notes say on side one that the listener should adjust the treble tone control of his preamp to brighten the sound by 2 to 4 dbs. That would be about the same as playing back with DIN EQ. However, to make things confusing, it says not to change anything for side two.

On the other hand, in Myles' first post on the subject, someone (not Doug) had told him Sheffield used the EMI EQ, which according to Zanden has a 100 microsecond roll treble over. This means that if a record had been recorded with the EMI EQ, it would sound brighter if played back with the normal RIAA.

At this point I am ripping my Sheffield D2D recordings according to Doug Sax's comments, since he should know.

Here is a shot of the EQ controls of the Bottlehead phono pre that I have. You can see the three knobs. The one on the left is the treble rollover, set currently to 50 microseconds (for the Sheffield rips). Two positions to the right is 75 microseconds (the RIAA setting) and furthest right is 100 microseconds (the EMI, Columbia and Decca settings). The middle know is the bass turnover frequency which is 500 Hz, the same for all stereo EQ's. The furthest right is the bass shelf. The most left position is 50Hz which is the setting for RIAA, DIN and EMI. The furthest right is 125 Hz, the setting for Decca. After hearing a prototype phono pre that Dan Schmalle of Bottlehead had made and comparing it to several others with adjustable EQ, I asked Dan to build me a custom phono pre, the result you see. In addition to the adjustable EQ, it also had a balanced output (as well as an unbalanced). I wanted a balanced output so I could directly feed my Pacific Microsonics Model Two which I use for ripping, which only has balanced inputs.
Thanks for the update Lsrry. Saw that prototype a while back and thought it was going to replace the BH Repro. Take it Dan never officially top released it?