I will include the summary, as posted on our
blog
, then I want to talk about each room, video by video, and what it was like there, going into a lot more detail than we did in our general show report.
This was an unbelievable experience. We are still fresh from the shock of the size and intensity of Munich. Hopefully I will be able to convey some of this here and describe what it was like so that those of you haven't gone can understand what it is like - because it is not at all what we expected from all the show reports and videos we have watched over the years.
And because we were so overwhelmed, this is the first show report in over a decade where I did not get to something like 98% of the rooms for the show report. In that sense I was totally unprepared for the scale of this thing. 2600 photos taken [more to be posted over on
Ultimist Munich High-end 2019 show report in photos
] and I still feel like it is a slap-dash, minimal overview of the darn thing.
I did get to record video for about 70 rooms, of which about 30 were also recorded in high resolution audio. The playlists are here:
Munich High-end 2019 in 24 bit 96 kHz videos
Munich High-end 2019 videos
The Shows
First, there are two shows: one is about 26 rooms in a Marriott hotel: the
HiFi Deluxe show
. This last is a pretty standard hotel-based show. The prices for the exhibitors are not much better here than the quite expensive rooms at the main conference. Exhibitors show here because they hope for better sound and less hubbub. It is about a 12 minute taxi ride or a one hour walk from the MOC [using Google Maps to help navigate a long walk through Munich along intersecting and forked bike paths, through business parks and around the back of office buildings and cutting though the rear exit of a hotel with the GPS-driven navigation working like a "you're getting warmer, you're getting colder" sibling who doesn't like you very much].
The other is in the big conference center - universally called
The M.O.C
. This show is about 3 to 4 times bigger than what the high-performance audio portion of CES ever was during its glory days. A rough guess would put it at about 500-600 rooms and exhibits [CES got close to 200 rooms plus Richard Beers' simultaneous THE Show, which had about 20-40 if I remember correctly]. And it was <em>Packed</em> with people. Even on Industry/Press day, it was crowded [presumably some enthusiasts also manage to get an extra day to do their shopping]. And when I say 'crowded' this is not like Las Vegas Venetian Hotel crowded where the narrow hallways used to be difficult to navigate at full speed because people were standing around chatting and hotel rooms were crowded because they only had seating for 6, leaving people standing. Nope. These are wide hallways at 10 to 20 feet wide and rooms that seat 20 or more.
You would think that the high-end audio business is actually doing quite well if you used this show to judge it by. [And maybe it is... just not in the U.S. yet.]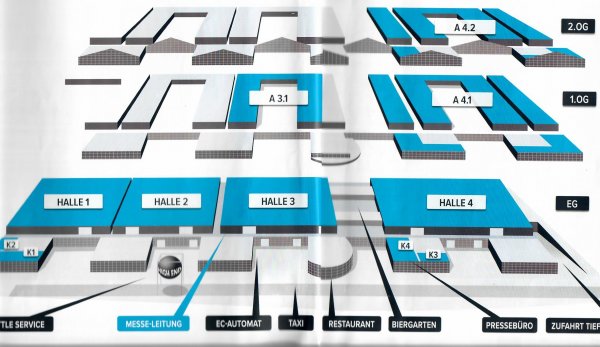 The MOC is divided up into two main areas: 1) exhibits and manufactured enclosed rooms in four Giant [as in very, very large] Halls, that are more or less are side-by-side (as an example from our videos: Aries Cerat was a room constructed in the middle of one of the halls on the main floor, Mag-Lev was an exhibit on the main floor). 2) Plus 1.5 two story atriums with a double ring of rooms around the periphery (most of the higher-price rooms were here) [plus some extra large rooms tacked on nearby, like the Silbatone + Western Electric horn and Kawero + Kondo rooms].
Atriums 4.1 and 4.2 were where most of the action was. 4.1 is above.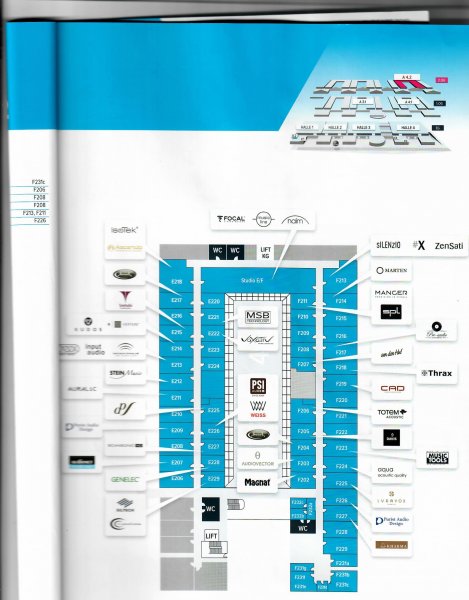 Atrium 4.2. Please note that the labels here on these graphics reflect only a small portion of the rooms that were willing to pay for such labels.
Although the rooms at the Marriott are no doubt constructed better than the makeshift rooms at the MOC, for my purposes the rooms at the MOC worked fine. Although there was sometimes [rarely] bleed through of sound from a nearby room [most notably in the TechDAS Zero/Vivid/CH room] there are usually so many people coming and going and talking that there is always going to be a high noise floor anyway [except in the TechDAS Zero room as people tried to listen carefully to ascertain the ultimate quality of the table]. And as for the compliant artificial walls and their propensity at absorbing bass and other frequencies: I didn't find it a problem. And, again, all the people in the smaller rooms at the Marriott had some human bodies absorbing sound anyway [and Audio Note had fixed curtains in just one corner, which also didn't help matters, for example].
Comparing the overall sound quality here to CES in its glory days... even though we are getting pickier about what we consider high-quality these days, Munich clearly had better overall sound quality. And fewer rooms played overly simple 'audiophile music'.
However, although the bar was raised on the general quality of sound for most rooms when comparing them to a U.S. show, there were few actual 'standout' OMG rooms. But the fact that there were just so darn many rooms, and hidden rooms in the back of exhibits all over the giant main halls, that it is easy for a treasure-hunt mentality to kick in, making this one hell of a blast of a show to attend!
Last edited: