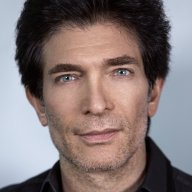 Site Co-Owner, Administrator
Jan 25, 2015
6,485
922
113
At Munich High-End 2016 and 2017 the Acoustical Systems Apolyt made only a static, if nonetheless still dramatic, appearance. This year, its platter was spinning. Dietrich Brakemeier, the founder and designer of Acoustical Systems, mounted his amazing Axiom tonearm on the Apolyt.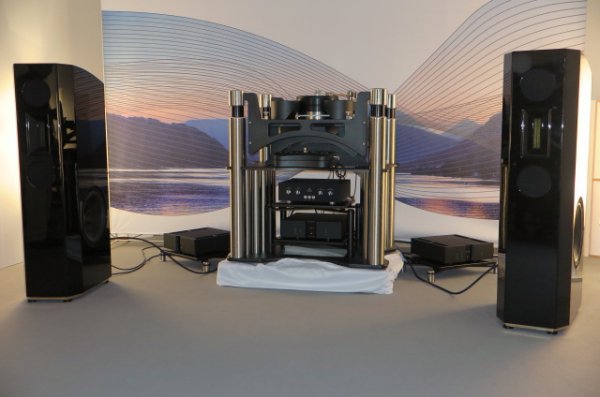 It is hard to convey a sense of just how massive is the Apolyt turntable. It boasts an air suspension system supporting what looks like a very large but fairly conventional turntable in the middle of a medieval-looking torture rack.
I told Dietrich that I love his Axiom but would he be willing to make a trip to Los Angeles to install and set it up? Dietrich said he would be open to such a trip!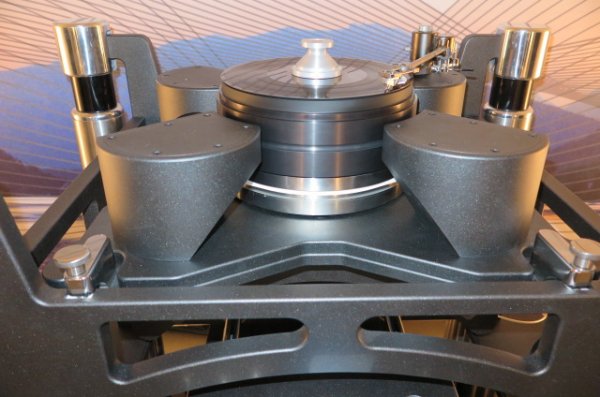 Apolyt Technical specifications
:
- platter weight: 58 kg
- chassis weight: 188 kg
- net weight: 388 kg
- shipping weight: 580 kg (delivery in 8 flight cases)
- total dimensions (w x d x h): 112 cm x 82 cm x 122 cm / 138 cm
- wow & flutter: below 0.01% (W.R.M.S)
- speed: 33 1/3 rpm and 45 rpm - all speeds w/ precise adjustment
- operation voltage: optional DC-operation and selectable 100 / 120 / 220 / 230 / 240 V - 50/60 Hz
- drive: unique balanced shaft transmission drive with dynamic torque management
- power consumption in operation: 20 to 180 Watt
Adjustments
:
- user choice / selectable: 1, 2, 3, 4 or 5 arm bases
- adjustable - build-in - air flow and air pressure for optional air-bearing tonearm
- adjustable tuning resonance frequency
Features
:
- automatic leveling
- optional 2 shelves incorporated for phono stage / line stage - full isolated within the air spring frame.
- platter based on bi-radial, full aero-static air-bearing - vertical and horizontal.
- complete plinth and optional integrated rack suspended on true air-spring-induction-field suspension with resonance frequency below 0.5 Hz.
- speed quartz controlled
- balanced shaft transmission drive - mating belt and direct drive in an unique concept.
- center of moving mass resting in bearing plane.
- platter inertia 38x of Micro Seiki SX-8000 platter.
- compound platter featuring definite energy transfer and internal liquid dampening.
- center of platter mass identical with plane of bearing/rotation = perfect resting mass principle.
- compound arm bases with identical energy transfer concept as platter.
- super fast exchange of arm boards.
- no possible build-up of static energy during play.
- motor-drive powered by custom amplifier and optional pure DC-power supply.
(battery sourced with automatic recharging and automatic redundant AC-power supply)
Options
:
- optional additional speeds: 16 2/3 rpm and 78 rpm
- optional wooden veneer or smoked glass side panels - detachable
- optional rack front cover choice of prime wood veneer or smoked glass
- acrylic dust cover
- optional 24 kt plating or polished chrome finish on selected parts (frame, dome caps)