Good morning,
I'm asking your kind advise. My name's David, and I live in Italy, Tuscany.
My favorite music is progressive rock, specially modern progressive.
I try to summarise my latest gears and experiences:
1) After various speakers more or less 11 years I bought a pair of
Spendor SP100R2
,
with preamp YBA 1
, power amps
YBA Signature Mono
. I was listening in a dedicated 20mq room.
The Spendors "opened my ears" to another level of reproduction: for the first time I managed to understand what
tonal and timbral accuracy
really means. Very analytical, detailed, realistic, powerful, "big" sound, deep bass section. Sometimes, due to the room's (not too big) size they overloaded the room and depending from the recording, the bass was a little uncontrolled. It was not a real problem, but they surely could benefit from a larger room.
2) After 1 year I had the occasion to put my hands on a very nice pair of
ATC 50 Anniversary Edition Actives
. Beautifully stunning. They matched perfectly with my room. The SP100R2 were unbeatable in tonal and timbral accuracy, but the ATC produced an incredibly faster sound, it was a
FLUID
sound, smooth, iper-controlled, and with un unattanaible
sense of rhythm
(actives are unbeatable in this aspect). With ATC actives I was using a
YBA cd player
and
YBA preamp 1 alpha
, very old one and musical.
3) Later I moved to Tuscany , so changed my house, and I had the possibility to have a new dedicated room of 25 mq, which increased remarkably the sound quality in general. I only listened to music without any change in my system for many years.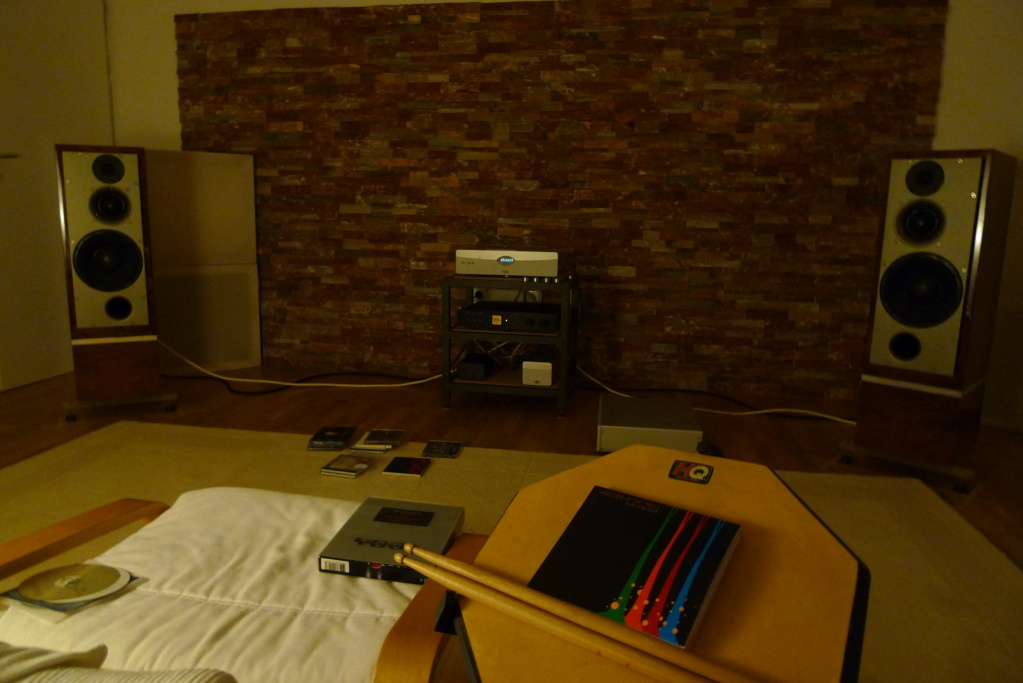 4) Two yeas ago, for several reasons, I had to change home again, my system remained stopped and packed for 1 year and a half because I wasn't able to find a suitable new home, so I decided to sell my ATC's.
Lastly I found a new home but without a dedicated room anymore unfortunately, now I have a living room of 25/27 mq.
5) I bought
Swiss Physics preamp and amp 5 & 6A
, discussed here:
https://www.whatsbestforum.com/threads/swiss-physics-arrived-old-top-suisse-amp.28964/
(The power amp 6A is a dual mono pure class A,160 watt 8 ohm and 275 watt 4 ohm)
I maintained the YBA cd player classic series, and added a pair of
Graham Ls5/9
.
6) Everything has changed so it's difficult to make serious comparision before-after but:
a) the Grahams 5/9 deliver (incredibly) an
even more detailed sound than ATCs,
I don't know if also the Swiss preamp/amp have some credit, I don't know if the previous YBA preamp was a bottleneck, now I heard more details than before with the ATC in mostly every recording.
b) the Grahams 5/9 has some kind of magical medium frequencies, voices are the best I've heard. They only have a
medium more forward or in emphasis ,
but this is a declared BBC 5/9 charateristic.
c) the Grahams 5/9 manage to make a
deep scan into the different sound layers
, you can isolate surgically even the the most hidden sub-track with ease.
d) they are iper fast, controlled , produce a likely bass section, for the dimentions of the speaker, and have very good power handling too despite the dimentions.
e) they don't have the sense of rhythm the ATC actives were capable of
.

BUT
,
once you have known the weight and the scale of a big speaker
, the smaller monitors seem like "toys". I'm exaggerating, obviously, but it's physics. The meaning is that I miss the impact, the presence, the physicality of a bigger speaker. I'm not speaking about specifically of the bass frequencies, but of the sound as a global thing.
For this reason I'm thinking about upgrading the Grahams Ls5/9 to something bigger, not extremely bigger, the maximum I could insert would be something like a spendor sp100, not more, or a medium tower.
Summing up the basic features they would have to guarantee:
1) After 3 english monitor-type speakers I don't like that all the cds sound in the same way, I don't like for example always a sound like honey, with every cd. The sound for me should change, maybe sometimes more dry, sometimes more sweet, depending from how the recording has been done. Sometimes the sound could be fatiguing, too, other times non-fatiguing, depends from the recording.
2) Tone and timbral accuracy is a must
3) I like very detailed sound, with high-frequencies reproduction open,extended, but also
natural
I would say
4) I like to discover all the little nuances, details, so a lot of resolution
5) Bass section has to be very fast, not extremely extended, but controlled and fast
6) Ability to represent a realistic imaging, in all the 3 dimentions
7) A good sense of rhythm, more than the Grahams possibly
8) To give a term of comparison, I listened once to Wilson Audio Sophia , they were extremely "oleographic" but they seemed "artificial" to me.
I have a total budget of 6.000 euro, in the USED market only. I know it's not easy and the risk to get worse under certain parameters is alive...
I want to keep the Swiss preamp and amps, so actives are not considered in this moment.
I could find some used Grahams 5/8 but these are two ways speakers like the 5/9, I don't think there should be a significant improvement, I prefer a 3 ways or more speakers.
I also consider some older or "vintage" speakers but only if there are spare parts to repair them in case of need, and if it's easy to resell them.
Do you have some ideas to suggest me?
thanks in advance
David
Last edited: