Class D amplifiers were often being looked down on in the past, until when better designs such as nCore, IceEdge emerged these several years.
Even so, most of audiophiles in Hong Kong still prefer conventional Class A or AB amplifiers.
They stereotype Class D as more suitable for entry- or at most mid-grade audio systems.
New hopes have appeared in 2018.
The Nuprime Evolution One mono poweramps received praises in diff countries.
https://www.hifi-advice.com/blog/review/analog-reviews/amplifier-reviews/nuprime-evolution-one/
https://sonicunity.com/pages/the-nuprime-evo-one-review-first-listening-session
https://review.u-audio.com.tw/reviewdetail.asp?reviewid=1542
And the ClassD guru Bruno Putzeys has a new venture : Purifi.
https://www.purifi-audio.com/
https://6moons.com/audioreview_articles/purifi/
https://www.miveraaudio.com/forum/the-puremusic-family/testing-the-new-purifi-1et400a-amplifier-modules
Preliminary assessment is very good but is their collaboration with NAD aiming at mid or hi-end market?
Nuprime Evolution One and Purifi can be considered to be evolutary types of products.
What I am more interested in is the application of Gallium Nitride power transistors in audio amplifiers.
Technics, AGD Productions & Merrill Audio have launched amps using this new class of transistors last year.
WBF members can do a google search for the press reviews on them.
Last Saturday, I was able to audition the Merrill Element 116 mono poweramps in an home environment in Hong Kong!
They are paired with Antipodes DX server, Lampizator Pacific DAC, Emia full-balanced silver autoformer passive preamp and Verity Audio Sarastro IIS speakers.
My friend David's previous monos are MBL Corona. They are based on modified nCore modules of Bruno Putzeys.
The Element 116 is very well and nicely built. The external design/look is excellent. The chassis is made of mirror/reflective steel plate with gold colour metal blocks for ?vibration modulation. The original footers are GAIA III Footers of IsoAcoustics :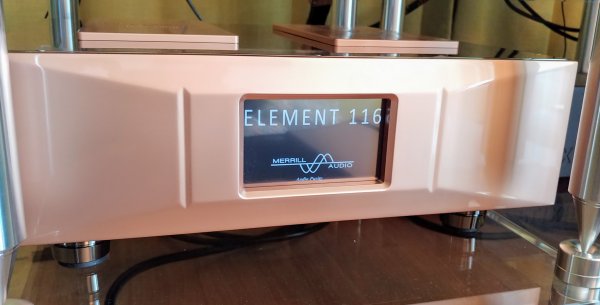 The connectors are also of high quality : from Furutech & WBT: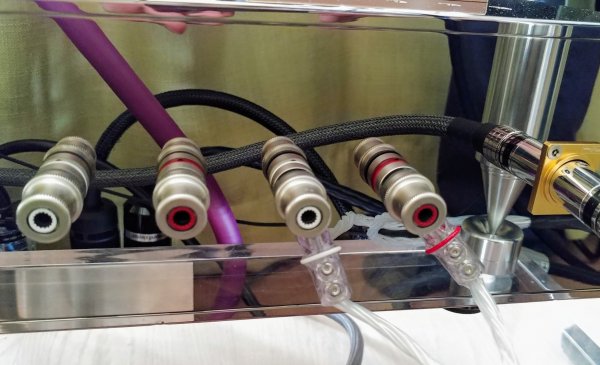 We listened for 3 hours and were very surprised by the sonic characters of the Element 116.
Before the audition we expected that the fast Gallium Nitride would make a fast/dynamical amp with very extended freq range. In simple words - a very HiFish amp.
On the contrary the truth is that Element 116 doesn't have any traits of the older generations of ClassD amps.
It's actually extremely musical : fast and dynamical but warm and rich.
There wasn't any mechanicalness in the midrange & treble. They were smooth and continuous.
The bass was deep and articulate/fast. The Sarastro IIS speakers were under its complete control.
The soundstage was wide & deep and images within were stable and real-like.
All in all the Element 116 bettered the MBL Corona monos in all sonic aspects.
IMHO it can challenge hi-end conventional class A and class AB poweramps with prices several times higher.
The cost/performance ratio is impeccable!
i opine that Gallium Nitride power transistors has brought about a bright future and a new era for audio amps.
I have plan to upgrade my poweramps later this year or in early 2020.
Merrill Element Series will be a top choice of mine for sure!