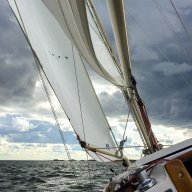 Dec 7, 2011
9,671
6,638
1,335
Last weekend, my good friend Ian (Madfloyd) brought over his Atlas SL cartridge to try in my system. He had it in his SME headshell, so it was a simple matter to insert it into my new SME 3012R tonearm and adjust the alignment. We compared this Atlas SL/SME 3012R combination to my vdH Master Signature/SME V-12 combination on my SME 30/12 turntable. This is not a direct comparison, but having the two arms and cartridges on the same table did allow us to make quick back and forth comparisons between the two combinations. Loading for each cartridge was 500 ohms, but because their respective outputs were different, we used different gain settings on my Pass Labs XP-27 phono stage.

I have been comparing the two arms over the past few weeks with both my Master Signature and MSL Signature Gold cartridges. The differences between the two arms seem to be less than the differences we heard the other day between these different cartridges in the two different arms, so I am fairly confident that most of what we heard was the contribution of the individual cartridges. A more thorough and direct comparison would have involved switching the two cartridges, or hearing each one in each arm, but we did not have time for that in one afternoon.

Al M. joined Madfloyd and me in the afternoon session. We listened to Holst's Planets, Art Pepper +Eleven, and Carla White, Mood Swings, the latter being a lovely, emotional slow solo vocal piece with cello and piano accompaniment. The following descriptions will refer to the two individual cartridges, but they are more accurately the two different cartridge/tonearm combinations.

My initial impression of the two cartridges was that in terms of tonal balance on a scale of 0 (bass) to 10 (treble), the Atlas SL went from 0 to 8 while the Master Signature went from, or covered the range between, 2 to 10. I heard slightly more bass extension with the former, and slightly more treble extension with the latter. Ian had a very astute response. He suggested that the Atlas simply rolled off a bit sooner in the treble range, while the vdH rolled off a bit sooner in the bass range. He thought the extension of each cartridge was actually very similar over the entire spectrum. Another way to describe this is that the vdH has a bit more high frequency energy while the Atlas has a bit more low frequency energy, but they were very close. Al M. agreed with this assessment.

Another difference I heard was that the Atlas was bolder, and more robust. Images were more stark and perhaps more solid. The Master Signature was just a tad more refined and nuanced. It dug a bit deeper into the inner detail of the music and was more ethereal. I heard slightly more ambient recording venue information with the vdH. Both cartridges sound incredibly lively and full of energy.

The three of us all agreed that both cartridges are superb and we really enjoyed the music with each one. They are similar in type, more true to the recording and less romantic sounding than my other cartridges. They are also both more tonally neutral and resolving than my other cartridges. Finally, both are extremely dynamic and full range. I think each one of us could live happily with either one.

I would like to thank Ian for bringing over his Lyra Atlas SL cartridge to hear in my system and Al for joining in the fun. It is always a real treat to hear a component in one's own system and not have to just rely on what one reads or try to determine its sound in some other system context. And it is fascinating to hear the component and then to be able to discuss its sound with two trusted audio friends. I am pretty confident that we set up the Atlas SL well enough to get a good impression of its sonic character. With more time, I might have been able to fine tune it even better, who knows? It is a superb cartridge and we really enjoyed hearing it in my system playing very familiar music.
Last edited: