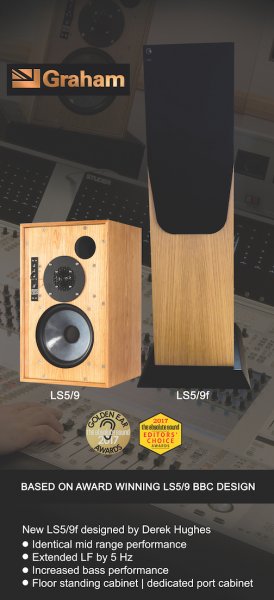 We were so impressed with the performance of the original LS5/9, that we asked Paul Graham to commission Derek Hughes to design a floor standing version with the mandate that the midrange clarity & magic be maintained.
Graham Audio were delighted to launch the new LS5/9f at the Montreal Show. Based on the award winning LS5/9 monitor, the floor-standing version has 5Hz more bass extension as well as more physical bass output. While the LS5/9 retails for $6,790 (without a stand), the floorstanding version is only $7,990 in the United States.
Stereophile Montreal Show Coverage
.
click to read
We ordered our own pair in a gloss ebony. We asked for a switch on the front panel (+1, 0 +2dB) for the treble to replace the original BBC's design of solder posts with -1, 0, +1db for the treble. Having the ability to increase the treble by 1dB was critical in getting great sound in a heavily damped hotel room in Montreal.