Good news for those of us are running PCIe/USB cards.
Jcat has just launched their new card, that uses superior, ultra low nosie crystal oscillator (XO or just clock), chance the name 'Femto' (from the amout of jitter the XO has, measured in femto seconds).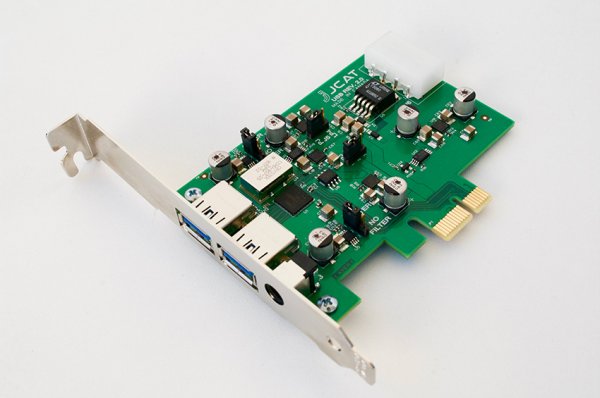 The card uses the excellent Crystek CCHD-957 XO, which can be found in Berkeley Audio Designs products and many other, top end DACs.
This clock is very expensive at $30 in OEM pricing, which is many times the price of the regular XO used in most of the DACs (common XO cost more like $1-$5), but its specs speak for themselves. The Crystek XO features a typical low close-in phase noise of -100 dBc/Hz @ 10 Hz offset, and a noise floor of -169 dBc/Hz. That is super clock teritory.
The Crystek Femto Clock which is located just a few millimeters away from the USB controller chip, which is powered by a dedicated ultra-low noise linear regulator for maximum performance.
The whole power regulation has been redesigned as well. In the previous revision of the JCAT USB Card, the USB controller's digital core 1V power was supplied from the PC via PCI Express lane. The card was redesigned so that all internal circuits are powered by ultra-low noise linear regulators exclusively, if any 5V power supply is connected (either external or internal).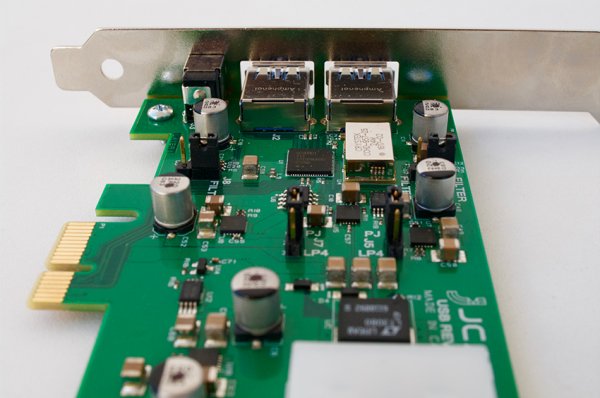 I have one already on order and should have it around Tuesday.