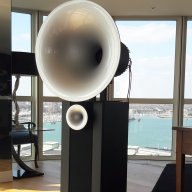 Feb 14, 2020
246
95
30
76
My new Avantgarde Duo speakers have arrived, but I find they are too tall ! The Manual suggests they should be tilted so one can just see the top of the bass enclosure. This requires much more tilt than I want from an aesthetic point of view.
The design includes rather fancy adjustable-height spikes, but these can be removed and replaced with soft vibration-absorbing feet, although surprisingly this is not recommended by Avantgarde. For me the advantages of soft feet are that the height can be reduced and unwanted vibration and noise to my downstairs neighbours can be minimised - and importantly they may sound better.. My floors are timber boards on screed on concrete.
OK - the choice for these 100 Kg speakers is:
IsoAcoustic Gaia 1
(or
Gaia Titan Theis
). These would allow a 2-3 cm reduction in height and it's a well respected technology. I have Gaia II feet under my old Duos and I much prefer these over spikes, sound-wise.
OR -
bFLY Audio Talis Pro L
feet. These are German made and new to me, but I stumbled across them recently and they could be a better solution as it would allow a 5-6 cm heigt reduction. This would probably eliminate the need for any forward tilt, but what about the sound?
Has anyone any experience of the Talis Pro feet? Or can you suggest a further alternative that may better either of these? Thanks Peter
PS Does anyone believe that Gaias sound better with their name logo facing forward than randomly tightening them up whereever the logo ends up?
Links:
Avantgarde support frame - see photo
Gaia Titan -
https://isoacoustics.com/gaia-series/gaia-titan/
Talis Pro -
https://www.bflyaudio.uk/store/p5/TALISPRO.html
Last edited: