Vera Audio in Norway was established in 2017 and has since then released two power amplifiers that I would like to introduce. P400/1000 and 150/600 RS. The number in the naming indicates the power output in 8 Ohm and the second number behind the slash is the power output with bridging.
The goal of these two amplifier was to design something with extremely low distortion, high output power in a small but sleek chassis, build quality and cooling that will ensure a long life span combined with several usable functions.
Both amplifiers has a chassis that is cut out from one piece of block of aluminum. There are no seams and no visible screws. The inside of the amplifer has separate chambers to minimize noise. Both units are offered in black or silver finish, brushed aluminum surface.
Vera Audio has developed an input stage (buffer) with only the very best measurable parts. There are no degrading potentiometers in the signal chain. A gain adjustment with 8-step rotary switches with gold contacts 0.004% precision resistor which helps to provide a CMRR (common mode rejection ratio) of at least 100dB at 1kHz. The very low noise and high CMRR making it even a great combination with horns or other high sensitive speakers.
The P400/1000
amplifier is the most powerful one.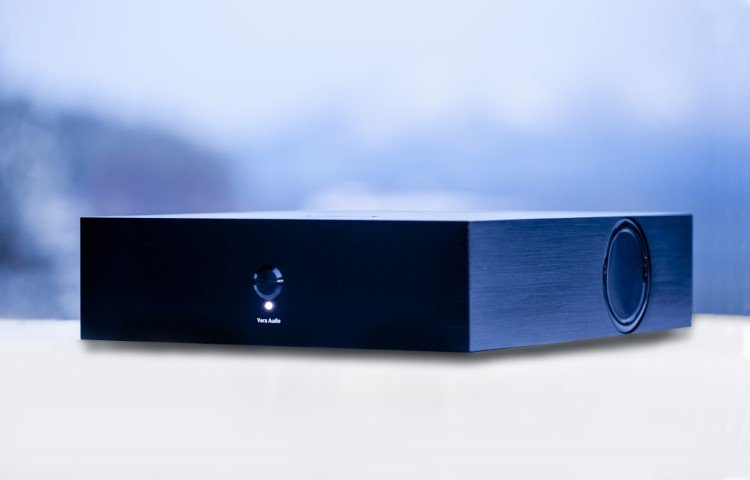 Below are specs of the power with rated THD+N distortion. Take note that this continous power.
– Stereo, both channels driven at 8 ohms:
– 400W with maximum 1% THD+N
– 330W with maximum 0.01% THD+N
– 300W with maximum 0.004% THD+N
Stereo, both channels driven at 4 ohms:
– 750W with maximum 1% THD+N
– 620W with maximum 0.01% THD+N
– 550W with maximum 0.004% THD+N
Bridged, driven at 8 ohms:
– 1500W with maximum 1% THD+N
– 1100W with maximum 0.01% THD+N
– 800W with maximum 0.004% THD+N
Considering the high amount power in a small chassis, we chose to use temperature controlled fans besides a cooling block inside. These fans are extremely silent and basically not audible. More about this later.
The second model is
the P150/600 RS
. This amplifier stays very cool and therefore has no fans like the big brother.
While not as powerful as the P400/1000, the P150/600 RS is the best measurable amplifier. This unit also has an auto standby function where it automaticall goes into the standby if there's no signal for 3 hours. The timing here can be changed.
Below are specifications. Take note that the amplifier measures better than our measuring gear. So the distortion is actually likely somewhat lower than this.
Continuous power:
Stereo, both channels driven at 8 Ohm
– 220W with maximum 1% THD+N
– 180W with maximum 0.01% THD+N
– 140W with maximum 0.0005% THD+N
Stereo, both channels driven at 4 Ohm
– 420W with maximum 1% THD+N
– 340W with maximum 0.01% THD+N
– 270W with maximum 0.0007% THD+N
Bridged 8 Ohm
– 800W with maximum 1% THD+N
– 680W with maximum 0.01% THD+N
– 600W with maximum 0.0005% THD+N
Bridged 4 Ohm
– 920W with maximum 1% THD+N
– 900W with maximum 0,0007% THD+N
Functions:
A 12V trigger input is in the rear and with a LED indicator that lights up when connected.
Both amplifiers are bridged by turning a knob.
The gain control is also controlled for each channel with knobs in the rear. The gain settings are as follows: 12, 15, 18, 21, 24, 27 and 30 dB. There's also a mute function.
As one can see form the table above, the error between the channels is less than 0.00dB for all gain setting except the 12dB setting that has 0.01dB error. The absolute gain error from the indicated gain is maximum 0.04dB at the 30dB setting. This ensures that when the user set the switch to 24dB he knows it is 24dB ant nothing else.
Micro controller and clipping indicator
A micro controller is constantly monitoring the output for clipping. If the load is too low it's signaled with blue blinks in the front LED light, and if the voltage is too high it will be signaled with green/red blinks depending on the channel. This is very useful function, knowing that when a blink is seen one should dial back a dB or two or consider buying a second amplifier for bridging and more power available.
For only the P400/1000 unit: The micro controller also monitors the heat on both channels and intelligently increase the fan speed as necessary. No internal part will exceed 65° no matter how you use it or where you install it.
RFI/EMI filter and protection
Multi-step EMI filtering in the input stage to effectively keep harmful radio waves away from the audio circuit. In addition, the entire entrance stage is mounted inside a screen in a separate chamber inside the cabinet. The Neutrik XLR connectors are also shielded.
Special ESD precautions then can handle up to 7A short ESD pulses.
Overvoltage precautions that can handle high currents up to several tens of volts without damaging the input.
In the picture below of the P150/600 RS one can see that the entrance stage is in a separate chamber.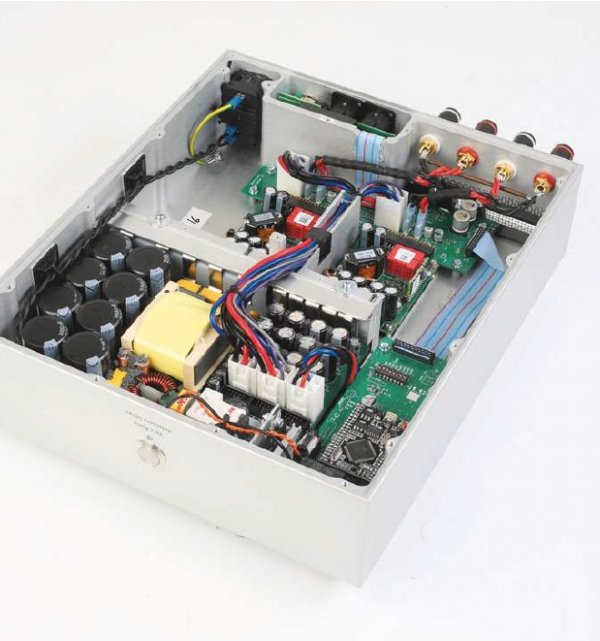 Warranty and quality control
We gurantee a warranty of 2 years but a 5 year warranty is also given as long as we can get hold of needed parts.
Every amplifier is tested before it leaves the bench and we measure that everything is within specifications.
We welcome any questions.
Last edited: