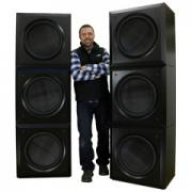 WBF Technical Expert (Speaker & Acoustics)
May 21, 2010
381
138
390
46
Hi Guys,
I figure if I don't get this started now I never will. I intend this to be something I'll keep adding to and we will keep discussing as the basics only set the path for seemingly endless finer tuning towards the best result possible. Of course that's why we're all here.
Before we get too far into the steps and targets, I feel it is very important to make the acknowledgement that the simple concepts of "matching levels" and "setting distances" are idealistic concepts which only apply to a very simplified description and quantification of a modern, multi-channel audio system. Once we pull the curtain back to see beyond a simple SPL meter and some pink noise, we find a huge range of variation, even within specifications that might at first seem pretty clear.
In short, the complexity of setup is directly related to the range of physical and electronic adjustments available and the means to quantify the acoustic result.​
Let's start with some primary goals behind these efforts:
To insure as much content of the recorded music, soundtrack or event is communicated to the listening area.
To insure the recorded or synthesized acoustic space is representative of the recording engineer's intent.
While attending to items 1 & 2, maximize enjoyment of the system.
My intent is to start with a focus on what we are trying to accomplish in optimizing the speakers and equipment in the room which I'm assuming is already constructed and assembled for this discussion. This process will most certainly highlight acoustic and layout issues which might have been overlooked in planning. It is very easy to get caught up in the tools we're using and loose sight of the greater goals. I will attempt to keep to the goals and targets of our efforts, as each system and enthusiast will have different tool sets and new tools are always being developed.
Plan of attack:
Initial placement and aiming of speakers and subwoofer.
1st order level adjustments and confirmation of signal routing for all channels from the main listening area (to be tweaked later).
Set/confirm initial crossover settings so all speakers are crossed over at reasonable frequencies (ie 60-100Hz for the larger to more bass limited speakers (to be tweaked later).
Input measured distance (delay) settings for each speaker and subwoofer (to be tweaked later).
Give a quick listen to some familiar multi-channel/surround material at moderate-demo level to catch any faulty items, and a very quick survey of what you expect to improve.
Now dive in to the real work knowing you aren't trying to optimize something not functioning properly!
The above list and more coming are intended to be general and generic. There will be differing approaches and tools used by those calibrating, but the more common ground we can establish, the more fruitful and productive the discussion to follow will be.
More to come...
Last edited: