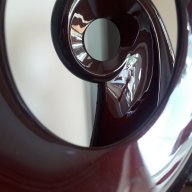 May 19, 2014
1,192
224
320
It is a perfect pairing. Gryphon with its super organic sound and firm bass grip plays the Vivids(G1, Spririt and Kaya 45) to perfection.

The new Essence amp seems to me to be a miniMephisto. I will confirm this once I get my Mephisto. But so far the Essence amp is driving the Vivid G1's effortlessly.
I concur with Scott. His Giya G1 + Colosseum combo was the catalyst that drove me to purchase Giya G2 S2s.