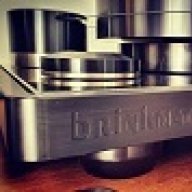 Jul 30, 2019
139
155
115
52
A couple of days ago i went with a friend to listen to Zellaton Klassik Stage speakers (blow my mind but that's a different story).
The owner used MSB Premiers DAC with the streaming module as the source. what was familiar to me was the same filling I got in Munich on most or all the rooms that used MSB DAC as their source.

Long story short i just got myself a new MSB Premier DAC from the local distributor.
for the time being, i'm using his machine (black) till my silver unit that had been ordered will arrive

regarding sound, its better than my Melco N1ZH and Luxman D10X combo, in a couple of things - the stage is bigger, the mids are clearer and the whole dame thing is just so much closer to analog.

is it worth the price for the minor differences, hell yeah! - The easiest way to put it is: It's just more engaging to listen to.

I think Jeff Fritz sums it all up in his premier review from 2021 - "The Premier is a super-high-resolution, completely silent, utterly dynamic component that lets the music flow through it less hindered than through anything else I've heard. In terms of sound quality, it's the best digital front end I've had in my system."