We're headquartered in Cambridge, Massachusetts with a small format salon in West Medford and a large format showroom in Gloucester. We opened our Gloucester showroom after a year of preparation, the same week that Massachusetts closed public venues to curtail the spread of Covid 19. Like most, we battened down the hatches and prepared for what lay ahead.
Unlike most, we had lots of tubes, horns, vinyl, a cold press juicer, an espresso machine and a fully stocked bar to help us endure. Okay, we have solid state gear and traditional 2 ways as well, but you won't see much in the form of a traditional cone 3 way loudspeakers on our floor. You'll have to settle for horns, coaxial midranges, full range drivers, OB's, dipoles, panels, bending wave drivers, etc.
Over the years we've accumulated untold air miles, and over
50,000 miles driving
, (excluding shows) in search of the best listen. These mini listening fests were derived from the finest sounds we've encountered at shows, in print or from the recommendations of trusted ears. The resultant portfolio has become Prana Distribution and on a local level, the newly named dealership, Boutique Audio Design. It's a never-ending quest and one that has brought us long lasting relationships with some of the finest makers and engineers in the world.
Having had extensive time before live music and the recording process, (I am the sole non-professional musician in my immediate family, with my father having been a
jazz pianist
,
my mother
a
singer
and my sister a hybrid of the two) my approach to audio reproduction is promulgated around system synergy and engineering that limits amplification stages and complex crossover networks in favor of more direct forms of playback. "As simple as possible but not simpler." could be our mantra but whatever the approach, the ears are our final arbiter. Can you relax? Does your spine tingle? The ability to portray dynamic shadings at low volume and a strong presence factor would be earmarks of our systems. Some of these traits were present in the playback systems of recording studios where I worked as a teen. Studios, like most businesses, are subject to trends, which could lead to their best gear being sold or even gifted to make way for the new and shiny. Hence the Urei Monitors that were shoe-horned into my tiny bedroom and anchored what became my first 'high end' audio system. (yes, Urei used Altec 604s in the 80's).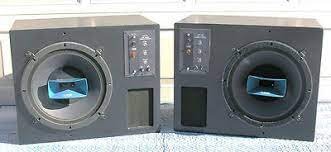 In my teen years - my first 'hifi speakers.
After I left home, I lived with my surrogate aunt,
Carmen McRae
, was part of the original staff at SXSW, helped open a jazz club (Zanzibar Blue) in Philadephia where I stayed for 4 years. During my Philly tenure, aside from working at the jazz club, I attended the Philharmonic regularly and taught jazz history. Upon moving to New England, I lived in a house owned by
Joel Press
(7 years) that featured daily live music and tea.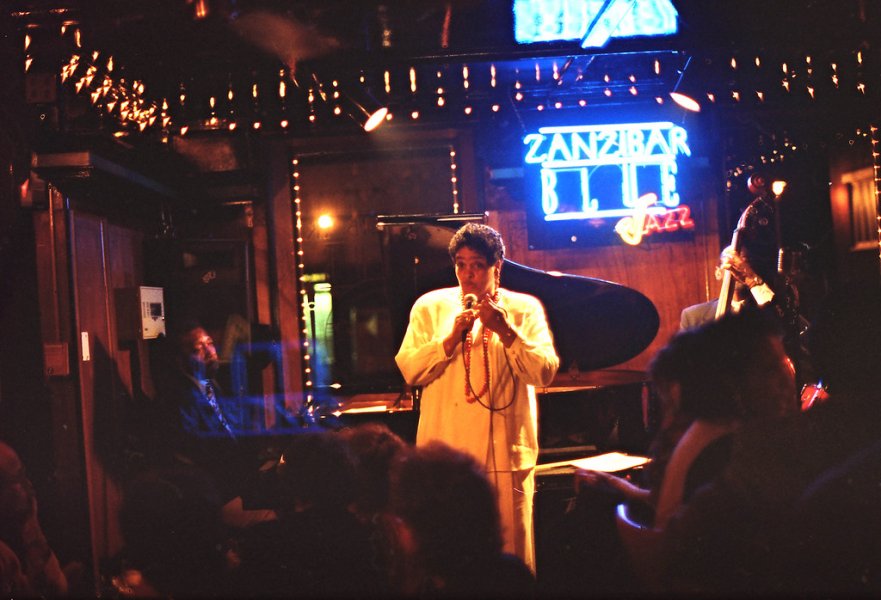 Zanzibar Blue, a jazz club in Philadelphia
As my late thirties commenced, the 5 plus days of live music per week began to scale back to a mere few days. So it has remained with the occasional reprieve for a festival or project. With our recently minted relationship with Fazioli Pianoforti, we aim to boost that average once more. During all of these years, achieving sound that honored music and the great endeavor of musicianship became more and more a fanatical undertaking to the chagrin of family and friends. Eventually they became converts and I felt justified to leave a perfectly good career to pursue high end audio full time.
The Fazioli Pianoforti F-308
The high-end audio business has been the hardest job I've ever loved in this, my 12th year. Tess, my wife is my right hand and we have a helpful
staff
of audio experts that work part time when they're not mixing for some of the venerable concert halls in the greater Boston area. Working with some of the finest audio manufacturers in the world has been, and continues to be, our privilege.
We've recently become worldwide head of sales for
Destination Audio
based in Poland. After travelling the globe and hearing every high-sensitivity speaker we could locate for a custom project, we came upon
Destination Audio
by chance in the parking lot of the Capital Audio Fest. Such coherence and natural presentation from a horn, we had not heard. Adding to that their magnificent array of electronics led Destination Audio and Sam Wisniewski to become a mainstay of our brand. With new field coil options and two new loudspeakers; the Ruby for smaller rooms and the 'Malta', launching later this year as an all out assault on the horn paradigm, round out an impressive collection.
We are also very fortunate to represent
Trafomatic Audio
. Sasa Cokic, who helms Trafomatic, has developed amplifiers for most every situation. At their pinnacle, amplifiers based upon circuits for Eimac transmitting tubes which must be heard to be believed. (not for the faint of heart with approximately 2600v on the rails in their largest
Drina Mono Blocks)
The Collins phono stage also breaks new ground, tipping its hat to the circuit advances made by
Arthur A. Collins
in the early 20th century. Likewise, the Tara 30A preamplifier is an entirely unique circuit, the dividend of which is being a boon for every system in which it's placed. Trafomatic has a large range of amplification, from the affordable to the humbling. The upper echelons are impossible to fathom until they've been experienced while the smaller offerings never fail to surprise. 'Trafomatic' means 'transformer' in Serbian, and as you might expect, they roll their own iron.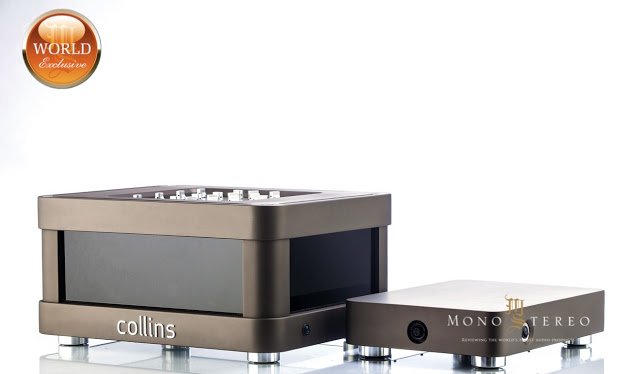 Synaestec Audio
is an anomaly in our portfolio, at least at first glance. Massive, overbuilt solid state isn't necessarily our forte'. Look closer and you'll see that it's not so ordinary. Octal circuits, (think 6SN7 holography portrayed via solid state) with a transconductance (current based) first stage in their amplifiers and you know Walter Weiss is up to something special. Paired with Open Baffle speakers from
SoulSonic
results in an holographic vista with the kind of breadth and dynamics associated with live music.
I fear I can blather on ad infinitum about each of our partners. Prana Distribution is a passion project and our partners each hold a very special place in our distillation of the musical experience. Not the least of which is Falken'Ohr Audio Furniture. Ten minutes tuning a system with a Falken'Ohr rack puts to bed any conversation about the validity and importance of a proper foundation for a high-end system. Add to these, brilliance from Dynamikks Audio, Ilumnia Audio, SoundKaos, Camerton, Audionec, Kora, Ascendo, Diptyque, Semper Sonus and others, and we feel in a unique position to create special moments in a variety of listening environments.
Our latest passion project is The Epitome; A room-specific bespoke multi-disciplinary concept featuring a Fazioli F-308 grand piano, Credenza Basshorn Technology and the finest in both playback and recording equipment. A room for the enjoyment, performance and study of music which has its roots in European salons dating back to the early Renaissance. Features include media storage (matching the basshorns), furnishings by
Timothy Oulton
,
retractable espresso
and bar stations and much much more. It is a room far removed from the overdamped 'high-end' audio ethos borrowed from old studio lore.
In keeping with our love of music, we have aligned ourselves with a small number of similarly impassioned dealers in the US and Canada. It is our aim to keep our products in the hands of the few who will treat the music and the end user with equal care and respect.
It is our pleasure to share our love of audio with you and to join the What's Best Forum Community. A big thank you to Ron, Steve and Julian for creating a niche out of their own interest and desire. It's the best of what the world wide web embodies.

If you are interested in any of our brands, have a question about a component, or a particular audio goal in mind, I'd be happy to speak with you.
Prana Distribution LLC
Frederick Crane
617.669.3275
www,
pranadistribution.com
https://boutiqueaudio.design/
Last edited: