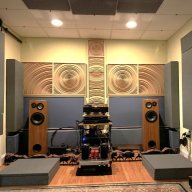 Jul 31, 2015
1,027
543
445
69
All tweaks tend to ultimately be flavour of the month, in the end there is only so much advice that anyone can give to anyone else since the nature of tweaks always seem to be so context specific in their outcome.

Rather than prescribing one fixed universal panacea it probably might be better for users to work towards trying explain the characteristic nature of any tweak and perhaps then the best usage scenario in the use of that tweak. It is a challenging area of exploration for sure.

I've liked the qualities of the SRA products that I've heard but I am not convinced that you can't go with even more control with footers or creating a more flexible individually tailored approach and more individually finesse your response to take more ultimate control over the outcome.

Good platforms remind me of good quality automatic coffee makers (omg yes… more coffee analogies

)… working with more tailored individual responses like using footers and mixed with additional constrained layer approaches in resonant damping is more like using a manual lever coffee machine… perhaps more of a scary art with more potential trip hazards.

Either way you take your risks and you pays your money… off the rack tailored solutions can be great but they are what they are and it's all ultimately just one part of the mix… we can succeed or miss in so many ways. We each take our own best individual shot in these things and that's about it really.
The tweaks that work I've kept long term. I've had some for more than a decade and still value what they contribute.
Interesting to me how threads go off track and morph into philosophical discussions. I find posters' experiences and insights gained from actually trying components and accessories useful - philosophical and semantic discussions not so much, although they may be fun for the participants in the same way that such discussions were fun in college. This happens repeatedly I think because busy adults have few opportunities for abstract and philosophical exchanges.
Last edited: