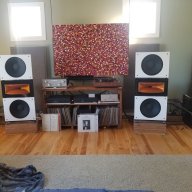 Feb 4, 2019
1,616
1,179
230
I have a customer trying to fit a bunch of stuff in his not so big room with a large sofa, and kids stuff everywhere. He is building a hybrid system of 2 channel and surround TV.

He is building built in cabinetry on a side wall the butts up to the front wall the speakers and TV are on. He wants one of the holes that is about 30 wide x 24 deep x24 high to hold his Rega P8.

He also wants to put his Fathom sub for TV use only in a hole as such under rhe TT.

I tried to find a place in the room for the sub. Their is non. I finally figured he only wants it to shake the room when his kids watch movies. How bad could it be.

The TT is the head scratcher. I have never seen a TT in a cubby. I only flip the dust cover of mine up and don't hear a difference between that and removing it. Just how much concern is there about reflection noise is there. From either the TT itself, or the speakers loading the hole.

Vandersteen speakers. He wants the TT in the far rear corner up against the front wall.
Do I push him to get that TT out of the rear corner and up in a hole more near the middle of the room.