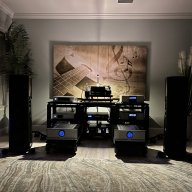 Jan 19, 2019
1,055
1,180
275
We are considering purchasing some MTRX2 monos. They each need a 30A dedicated circuit. MSB states the following:
MSB's recommended wiring

◦ 1 to 40 feet: 10 gauge wire
◦ 40 to 60 feet: 8 gauge wire
◦ Over 60 feet: 6 gauge wire

The 8 gauge (or 6 gauge) requires a jump-down back to 10 gauge using a junction box, somewhere just before the outlet because the largest wire that will fit in an outlet is 10 gauge. Install one dedicated line for all front end equipment, and one for each amplifier. If you must feed old branch circuits off one of these outlets, it is not absolutely necessary that your audio lines are dedicated lines as long as the wire path at the outlet you are using goes directly back to the breaker panel using 10 gauge or heavier wire. The circuit can branch to other outlets from your audio outlet if necessary. (some people won't agree with this).
Has anyone else here run 6 gauge wire stepped down to 10 gauge wire? If so, how is it's performance?
Vince Galbo's article:
How to Wire your House for Good Power?