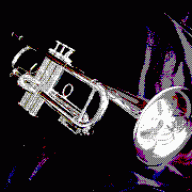 Member Sponsor & WBF Technical Expert
Jun 23, 2010
3,730
101
520
Here's what happens when you don't have What's Best, but it works well for me! - Don
The front wall, with copious absorbers, Magnepan MG-IIIa's (yes, I'll get black sox someday), CC3 center, pair of Rythmik F12 subwoofers beside the big Maggies, Samsung 52" LCD TV. Panels on ceiling as well.
The rear wall -- more absorbers, CD/DVD/BD/whatever rack, pair of Magnepan MC1 rears on custom stands (cheap costumers).
Left side, showing panels to catch early reflections and the side surround MC1 (barely visible beside the black panels).
Right side, as the left, and you can just see the little Minisplit HVAC unit at the upper right that lets the room stay warm or cool independently of the rest of the house. No connection to the house HVAC; and no sound/noise from the ducting to the rest of the house! Shades are blackout double-sided and coated.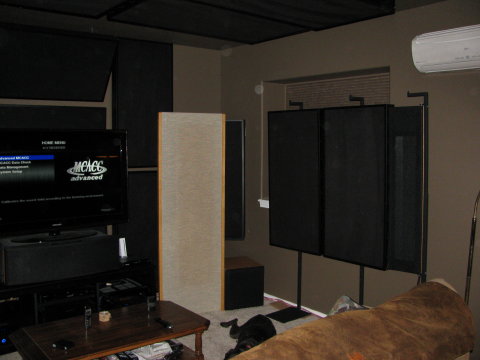 The components, left to right: Emotiva XPA-2 (L/R amp), XPA-5 (center, surrounds, rears), Oppo BD-83 above it, and finally the Pioneer SC-27 AVR. The AVR is brought up a little bit on blocks for cooling and (primarily) to make it easier to hit with the remote over the coffee table. Yes, I need to paint them black, eventually. Also a better view of the center Magnepan CC3 on top. The TV sits on a little stand I made that perfectly fit the Infinity center I had there; the Maggie is a little wider and about 1" taller so it's just sitting in front. The console is a fairly cheap run-of-the-mill wooden stand; I cut out most of the back for cooling and to provide better access.
The room was constructed with the walls and ceiling floating on Kinetics IsoMax clips, double inner wall and ceiling drywall, and 6" of mineral wool in the walls. Floor is concrete (basement). I can still faintly hear loud footfalls in the kitchen above, but I can crank it up and my son in the room next door can sleep and almost nothing penetrates upstairs. It's about 13' 3" wide, 17' 7" long, and 8' 5" tall (lost volume due to the isolation construction; a worthwhile trade). Additional panels have been added since these pictures, along with additional shelves for storage.
Components:
Samsung 52" LCD television
Oppo BDP-83 BD player
Pioneer SC-27 AVR
Emotiva XPA-2 (L/R), XPA-5 (center, surrounds, rears)
dbx 223xs crossover (L/R to subs)
Magnepan MG-IIIa (L/R), CC-3 (center), MC-1 (surrounds, rears)
Rythmik F12 subwoofers (x2)
Last edited: