I have been an avid DIRAC Live user for a while now. DIRAC has two parts. The first part is the measurement and filter creation tool. It is called the Dirac Live Calibration Tool (DLCT). The second part is the filter itself. The filter is stored inside of the Dirac Audio Processor (DAP). DIRAC is very different from any of the other full frequency target based DSP tools in two important ways. First, the mixed phase filter is unique in that it's not a fully FIR filter nor IIR filter. It's designed to be low enough latency so that one can turn it on and off on the fly to clearly hear what the filter is doing in real time and sound super transparent.
Second and more importantly, DIRAC uses a measurement protocol which requires a total of 9 measurement positions for both the right and left speakers. That's a total of 18 measurements. Why is this so important? First of all AES member JJ Johnston ("In the rain" on this forum) opened my mind to the limitations related to condenser mics (measurement mics). It's my understanding that DIRAC doesn't simply average the 9 points, but rather, it combines the measurements in a way that helps create filters that can correct what needs to be corrected and not correct what doesn't need to be corrected. In my experience, the measurement is THE most important part of DSP: Garbage in---->Garbage out. It's that simple. Here is an image of the measurement points in 3D:
When the user has completed their DLCT session and created an optimized filter, DLCT creates a "predicted" frequency response and "predicted" impulse response. These graphs are intended to represent the before and after responses as they are combined inside DIRAC as derived from the 18 measurements taken. Here is an example from my system: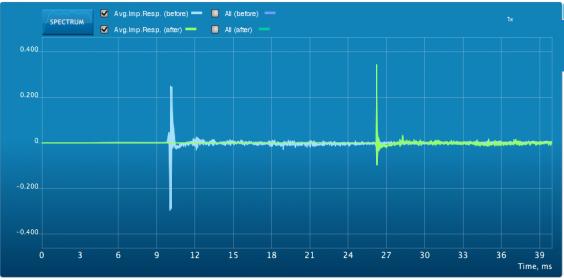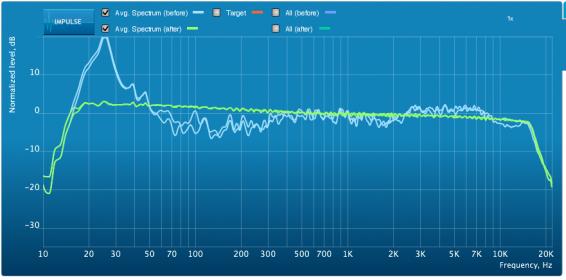 Now, I must say that I've wondered what the "real world" measurements would be if I were to combine the same 18 measurements that DIRAC takes and do a before and after DIRAC filter to determine whether the DIRAC filter actually comes close to the "predicted response." So the problem is: How can I validate the DIRAC filter to see if it's really working?
To do this, one needs to be able to take a log sweep measurement
through
the DAP with the desired filter on and then take the same measurement through DAP with the desired filter off. So, instead of taking 18 measurements in 9 positions, this experiment requires a total of 36 measurements in 9 positions. Ughh!
I first tried REW on my windows server. I couldn't get a valid measurement through the DAP filter. I think the problem has something to do with the REW interface with DAP. I really have no idea why it won't work. But trust me: it won't work. I tried everything and it's impossible.
At this point, I almost gave up. But then I remembered that I have a mac book pro. I haven't turned it on on more than a year. I'm not a mac person. I turned it on and downloaded a program called fuzzmeasure. I am sure you mac folks know this wonderful measurement tool very well. Anyway, it was a breath of fresh air. I am used to using REW. When I fired up fuzzmeasure, I was taking good measurements
through
the DAP with my desired filter in five minutes. Rejoice!! I like using it so much and found it so intuitive, I bought it. If you've ever felt that REW was too complicated or intimidating (like me), you should try out fuzzmeausure if you have a mac. It's a wonderful thing.
So my setup for measurement is a calibrated Earthworks m23 with the calibration file installed in fuzzmeausure. I use an ADC/mic pre called the
USBpre2
. The USB pre2 is an awesome high end calibration device. It's very simple to use, very powerful and super accurate. There's no need for a loopback FR correction. I ran all measurement through my DEQX HDP-4 which acts as a crossover and some small speaker correction. So all measurements go through the exact same system with which I listen. The measurement protocol is was exactly the same used in the DLCT; 9 points of individual right and left impulse response sweeps.
This is a 1/24 per octave average of all 18 measurements with
NO DIRAC FILTER
:
And now this is the exact same 1/24 per octave average of all 18 measurements with
DIRAC FILTER ON
:
Last edited: