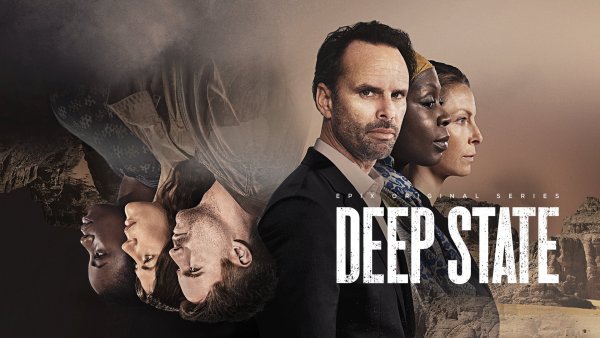 It's coming up on a year since the final episode of Homeland aired, but fear not, there is another political espionage thriller to fill that void.

Deep State, a Fox series that airs on EPIX in the U.S., is coming up on its second season and is full of all the CIA drama and action that viewers can handle.

By mere definition, the term deep state refers to influential members of government agencies or the military who are believed to be involved in the secret manipulation or control of government policy.

While the first season, which is available to stream on Epix and for purchase on Amazon, centers around MI6 field agent Max Easton, played by Mark Strong, the second season stars Walton Goggins, known for his roles in beloved shows Justified and Sons of Anarchy.

Goggins, who also serves as an executive producer on the series, portrays Nathan Miller, an ex-CIA agent who is now working in the private sector as a fixer for "the deep state" in West Afric

In the first episode of the season, Nathan is called to join a team that investigates a political crisis in Mali, a country whose natural resources are in jeopardy.

However, Republican senator Meaghan Sullivan, played by The Crown's Victoria Hamilton, has her own agenda and seeks to find out what the deep state is hiding.

Other newcomers include Lily Banda as Aicha Konaté, a Malian aid worker whose life mission is to improve things for her country, and Shelley Conn, who plays Nathan's ex-wife.

Though it wouldn't be too difficult to jump into Deep State in season two, the episodes do delve deeper into the origin stories of some of the returning characters. Throughout the season, viewers go back-and-forth between a story that takes place six months before season one begins and another that starts six months after season one ends.

Game of Thrones star Joe Dempsie is back to play Max's son, CIA agent Harry Clarke, while Karima McAdams returns as his field agent partner and love interest. While viewers of the first season might have had their doubts as to whether Alistair Petrie would return for season two, he's back as shady agency boss George White. Crooked CIA agent Amanda Jones, played by Anastasia Griffith, also makes her return.

As Goggins described during a panel discussion in London earlier this month with the cast and the show's creator, Matthew Parkhill, the show is largely based on real news stories.

"It was one of those experiences where you're kind of participating in current events as they happen," explained Goggins, whose character is based on a number of ex CIA operatives in the real world.

Parkhill shared just how close to reality he came with his plot lines. "When we're making it, I saw a New York Times article about a secret drones base that was being built in the Sahara. ...One of the story strands you get into this season is precisely that, building a secret military base in the Sahara."

The writer-director even wondered if they should tell the CIA that they were filming on the border of the Sahara as to not be confused for real military personnel. "We're driving around with huge machine guns," Parkhill recalled.

Goggins quipped, "There's, like, a drone and they're killing people and they look just like us a hundred miles away. I would get it wrong. Who's to say they wouldn't get it wrong?"

See the ripped-from-the-headlines drama unfold when Deep State season two premieres Sunday, April 28 at 9 p.m. ET/PT on EPIX, and in the U.K. on May 9 at 9 p.m. BST on Fox.