I love the analog disc and there's no other playback system as rich and varied as a turntable. You can pick your spinner, choose your arm and tailor the sound for your pleasure with the cartridge. Swapping cartridges was a joyful and regular activity, everyone I knew had 5-10 cartridges. Why get stuck with one when there were so many great cartridge manufacturers, each with their own unique and wonderful house sound? It's really a no brainer when one can easily transform the sound of a system in a few minutes with great and varied pleasures. For the most part it wasn't even that expensive, cartridges didn't cost what they do today and the tonearm designers built them to simplify this natural activity. Unfortunately for most, somewhere in the 80's the western audio media and their drones came together and in their collective ignorance hatched the idea of "The Cartridge" and the "Fixed Tonearm". The 80's was also the moment that influence of these so called mavens peaked. The Chief Drones spoon fed the public their misguided, self serving agenda and force fed it to the industry. Sadly for all "The Cartridge" belief is stronger today in high end than ever.
I face a dilemma when asked about "The Cartridge" A vs B and the right answer is neither. Its almost taboo to recommend a great cartridge matching their needs but with a lower price to the man fixated with "The Cartridge". Strangely, the fixated audiophile is happy and willing to spend thousands on an unknown "The Cartridge" based on the say so of a total stranger but takes it as a personal insult to spend a few hundred and try it for themselves.
I have nothing against "The Cartridge" when the system warrants it and have a few of them myself but why limit the pleasure to one? If you want new Ortofon, Denon, Audio Technical and Shure all offer excellent products below $1k, you'll be surprised how close some of them get to "The Cartridge"! Then there's the internet our online treasure trove for vintage and used cartridges. You can choose from decades and decades of fine cartridges built by masterful people, some are real hidden gems by any standard. All you need to taste this great variety of rich flavors is a good arm or a wand (calling Bob Graham
!) with bayonet, the rest is easy. Here are some of my favorites, most of these cartridges can be had for a few hundred dollars, nothing in silly money of today's high end.
I think that Ortofon's been at it longer than any other company today and with the most number innovations and diverse product lines. You won't go wrong with anything they made/make but its the SPU that stood the test of time. Its the Porsche 911 of the cartridge world, you can find as many different vintage SPU's and 911's from various era and like Porsche, Ortofon continues to produce and expand the SPU family today.SPU is known for its wonderful musicality and balanced, full bodied sound.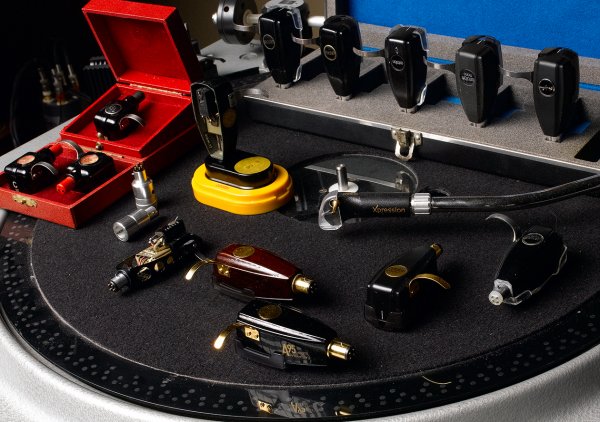 There are varieties of SPU, here's a very rare mono & stereo pair designed by Andreoli of the Magic Diamond fame;
Next is EMT, get yourself a stereo, a mono or two and one for 78's! A complete musical chain with the EMT arm. The can be called cousins of SPU but still different in character to warrant owning both. Set the arms once for each EMT category and swap out as needed without touching the arm again.
Deccas are detailed light and airy, but very solid and natural. A totally different presentation than the latter two yet just as musical… You'll need a Decca arm or adaptor to play some of their early cartridges.
Continued…