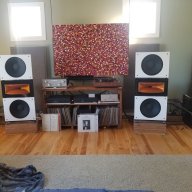 Feb 4, 2019
1,836
1,360
245
A few months ago I entered into discussion with Caig on their Deoxit products. I was looking for an anti oxidant because my panel test have shown that bare copper contacts are superior to any coated contacts I have heard. Maybe the silver is fine. But I don't like tin, so I remove it in my SqD offerings. I don't have any coating on my custom panels. They are all bare copper. The tin is there to inhibit corrosion. But its a horrible conductor. And dissimilar metals galvanically dissolve one another. Generally the noble element eats the less noble. Anyhow, take any noise sniffer and put it by a connection point and they tell you something is going on.
Since my surfaces are bare copper, I wanted to slow the oxidation that builds on the surface. Hence I started looked for a product to apply. I looked at Flitz, Stabilant 22, silver paste and others. In the end I settled on Deoxit by Caig. I like you can sink a computer board into the solution and it wont arch out. Some other solutions are dangerous in they are conductive like silver paste and some commercial deox solution.
In some recent conversations with Mike from Caig I became more convinced I should apply it to my stereo connections. I had bought a bottle of 100% solution.
DeoxIT® Gold G100L Needle Dispenser, 100% solution, 25 mL, (Applications = 1250 +/- drops, 0.02 ml/drop)Part No. G100L-25C (25 mL)
The 2 oz bottle is about $69.
In the first stage I pulled my power cords and coated the prongs on the male side. I did not have a way to get into the female blades. I might go back and use a toothpick. I also treated the signal RCA connections as well as the ethernet and USB on my server/DAC
Immediately I heard a higher level of clarity and bit more snap and pop. The music was more alive.
FWIW, I am applying the solution by wetting the tip of a Qtip and wiping the surfaces. If you tear most of the cotton off the end, the Qtip will fit into RCA holes.
In the second stage I went all through my speaker connections. My PAP Trio 15 Coax speaker have an external crossover and the connections to the drivers are exposed. I treated all the surfaces. Every connection on the crossover and the contacts on the drivers. I also went over the spades on the speaker cables at the crossover and the amp. This resulted in a more notable jump in dynamics and life. The music is much more alive. In now way do I sense this as artificial. Its very natural and more like my equipment is doing what is suppose to do the best it can.
In the last stage I dove into my phono preamp. I pulled all the tubes and treated the pins. Driver and signal. I did not dump G100 down the pins. You are not suppose to do that. Wipe it on. You want a thin film and that is it. I was not trying to be cautious and keep from touching the glass. In a sense I wanted to know if the higher voltages on the driver would arch over with the Deoxit. I also pulled the cartridge tags and treated the pins. I went back through the RCA and power connections while I was at it. OMG. My vinyl is a magnitude better. In truth, my entire system is a magnitude better. I sat this morning and was captivated through an entire album side. I sort of sat in awe. It is absolutely the finest my stereo has ever performed.
What's really nice about this product is it leaves a thin film that has a very slow evaporation rate. The product is suppose to remain active for 15 year or more. Kind of a one and done. Not something you have to think about every year. Maybe in 5 years it would be a good process to repeat.
In conclusion, I find the Caig Deoxit G100 to be safe. I have used it on breaker, main electrical feeder, signal, USB, ethernet, tube sockets and I have never had a negative experience. I don't see any downside to it. I only see upside. It should help maintain a positive connection that is oxidizing at a much slower rate than previously. I don't believe this product will become a insulator when it starts to dry like over deoxing agents can do. See this section for test reports.
TESTS / REPORTS / ARTICLES TESTS (T1) Applied Science explains and compares corrosion protection. NOTE: Concerning their simple corrosion mixture; this mixt ...
I have heard from enough other professions in associated industry using the product for many year. They are not reporting issues I have heard of.
On the plus side, my stereo absolutely performs at a higher level all around. Its much more engaging. Its more alive. More real. Its much more captivating and holding of your attention when you turn it on. You want to sit and absorb it. You don't want to walk away. I am particularly pleased with how it impacted the speakers and the vinyl. The power connections are important in a different way. In the power chain, and RCA, I noticed more of a clean. There was dynamic gain, but the clean was well pronounced. The phono was a more alive and vibrant gain. And the overall treatment has left the impression the bass is a little more hot. More full, seems to be a little lower in tone and more tight and pronounced. Everything is very balanced. They dynamic boost I got from this was maybe a tad more than I got when I added my Torus transformer. Even though there was a sense of clean, the Torus was a much larger level of gain in this area. Wiping RF out of your system is noise you don't know is there till its gone. And it may be there in a larger amount than you might imagine.
See the 2 links I posted. I like the needle dropper. The spray is going to get all over. I like to use the needle dropper to wet a Qtip. Then I apply it in a thin film. Wipe it right down into the blades of an ethernet or usb. It will be fine. I would not pour from the dropper into these slots. A thin film. Same for tubes. Don't dump it into the socket. Wipe the pins. I am always a little cautious about getting it on the glass. But I have not had an arching issue yet. And other have told me they do this too. You can jam small pin tubes through a piece of paper, then apply if it makes you feel better. This keeps any from making contact across the glass.
On the professional side, I have ordered packs of wipes and small aerosol cans. Any installation I am involved in, I have the electrician wipe the stripped wire leads before landing. I also like the little spray bottles for terminal lugs and large gauge service or feeder wires to penetrate the strands.
DeoxIT® D-Series D5 Mini-Spray, Twin-Pack (one blister-pack, one without blister), 5% solution, flushing action, L-M-H adjustable valve, 24 g, each(Applications = 200 +/-)Low-Med-High (LMH) Adjustable valvePart No. D5S-2-2X, TWIN-PACK (each 24 g)
I have sprayed this on mains and branch circuit connections. The D series has more agents designed to break down corrosion than the G series. If it new wire, use the G. If its an older service and you want to use product, use the D series. Use the gold needle dropper on your stereo.
Rex
Last edited: