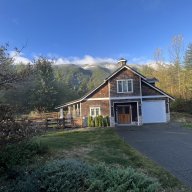 Member Sponsor & WBF Founding Member
Apr 25, 2010
8,484
2,041
450
it arrived today.

I just spent about an hour doing a quick sample taste of my 2 favorite mono mastered Beatles albums; Rubber Soul and Revolver.

I compared one cut on Revolver, 'Tax Man'; and two cuts on Rubber Soul, 'Drive My Car' and 'Norwegian Wood'.

I played the first 30 seconds of each cut on my mono cart/arm/phono and then on my stereo cart/arm/phono.......and went back and forth 3 times.

the mono rig is the Miyajima Premium Be Mono cartridge, Durand 'stock' Telos, and the lesser of the two phono stages in my dart preamp.

the stereo rig is the Ortofon MC Anna cartridge, Durand Telos Sapphire, and the better of the two phono stages in my dart preamp.

the differences were consistent across all three cuts. the stereo rig sounded very good by itself, but the mono rig made the stereo playback sound muted in direct comparison. the mono rig had quieter backgrounds, better decay and bloom, and had more sparkle and energy. voices were more delineated. there was more space and front to back depth.

some might view these differences as minor, even marginal. and I cannot say that every system would equally reveal the same differences or that every listener would agree.

when I was listening to Norwegian Wood I also pulled out my early Parlophone Mono pressing and my MoFi Stereo pressing to compare to the new mono pressing just to get a feel for that comparison.

the early Parlophone was a bit warmer than the new mono pressing, but it gave up quite a bit of energy and focus.....and it was much nosier....no surprise for a 50 year old pressing. I preferred the new mono overall....maybe some systems/listeners might prefer the warmth of the early Parlophone.

the MoFi stereo was a wet noodle in direct comparison......kinda lifeless.....mono is where it's at for these early Beatles albums.

one more note; with my stereo rig there was no difference with the mono button engaged or not engaged. I could hear zero difference.

anyway....it's just a first taste.....there is lots more ground to cover. and I reserve the right to adjust my perspective as I spend more time.