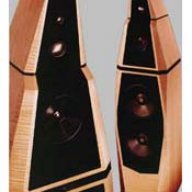 May 9, 2015
1,150
1,554
330
Shakti ,

How do these New Rowlands differ from say JR earlier stuff like model 9 et al ..
Difficult to say, as I have my former Model 9 Ti/HC not onside to make a direct comparison.
Coming from model 6, 8 and model 9 with battery PSU the more modern model 10 and 12 were already a step into the direction of a more "neutral" tonal signature. But Model 10 and 12 were still very close to the 6, 8, 9 range.
Than Jeff Rowland developed his first switch mode PSU and offered them as upgrade (or repair kits) for model 8, 9, 10, 12.
I had the chance to listen to model 8 and 10 in direct comparison to standard PSU and switch mode PSU.
The newer switch mode made the Rowland amps "faster" and more precise, but some start to miss the "soul" of the original sound.
The first steps with class D Amps, like model 201 and 501 were the next steps away from the old emotional midrange focussed Rowland signature to a more dynamic and neutral speaker amp.
I had not the chance to listen to models if the 300 series, as in Germany nearly not offered.
But listening to Model 625 and 725, the magic of the Rowland sound is back. It looks like, that someone has owed to Jeff a pair of model 9 and has given him the task to transfer the sound into a smaller chassis and to improve it as well.
Personally I see the 625 as the first real successor of model 6.
The current model 825 and 925 would be then the 2 (4) chassis replacement of model 8 and 9, which can be found in the chosen price point as well.
My model 825 reminds me to my former Model 8 and 9, but with more speaker control, more speed, more contour, but still with the typical "tone" of the Rowland DNA, which I like a lot.
Overall Rowland improved his goal to develop "silent" amps. The "blackness" in a full Jeff Rowland system is incomparable.
Listening to a system like the Avalon Osiris the track starts, that you enter the room of the recording, that the music starts.
This first seconds of "room" reproduction , before the music as such starts is something, which only a few systems can demo.
Interestingly Rowland managed over the years to transfer his DNA consistent into many different technologies in terms of the usage of different PSU or amplification modules.