Aries Cerat Kassandra Ref II DAC with the Audeze LCD4
​
I thought I'd start a thread about this amazing headphone. It am in awe of the sound from this thing. I know high end headphones are a niche, and possibly dismissed by some audiophiles as not being on the same level as big speaker rigs. But I beg to differ. The sound from high end headphones has moved a lot in recent years. I had a best I could afford headphone system while I was a student many years ago. BTW don't think the LCD4 is a tiny headphone from this photo, it is big and heavy. The Kassandra DAC is just HUGE.
My Pioneer SE-700 cost me a months wages back in 1981. I had many enjoyable late night listing to the Friday Rock show, Led Zepelin and Pink Floyd, Yes.
I came back to headphone about 5 years ago, though I had a working Stax Lambda Pro and SRD-7 step up. I bought the used set Stax 007 for 1K, a guy I met on the motorway with a wad of cash.
Then I sourced a used Stax SRM-717 amplifier. That sounded great, but it got me interested. Next I dug around and found a lot of DIY headphone enthusiasts were building their own amp or buying amps form DIY'ers. Most of those amps were based on PCBs by Kevin Gilmour. Kevin is another headphone enthusiast who had a keen interest in the Stax amp designs, and decided to impove on them.
So I bought a KGSShv electrostatic amp from a guy in Cheshire UK (new built). What an amp that was! Sounded marvellous. Now we had real bass from a sat headphone yet still with the mids and fantastic treble details stats are famous for.
DIY built KGSShv Electrostatic Amplifier
​
​
Seen here at a buddies house back in 2016 next to his BHSE amplifier.
​
Later I commissioned another amp with Geoff, the even better KGSShv Carbon. This time I had some design involvement as well, and designed the faceplate and top plate.
Then I bought the Stax 009 which is a much more transparent and faster headphone than the 007. The amp and 009 combo now came to about 7K.
My 3D render for the amp exterior design
​
KGSShv Electrostatic Amplifier w. 400V PS
​
Early this year I changed direction again. After going to Can-Jam in London in 2017, I decided I had another level I could get to. The Stax 009 is a superb headphone, but maybe if it has a weakness it may be realism and body / weight to the mids. And the extreme sensitivity to micro detail / plankton. I heard many other top HPs at Can-Jam and the only one to make me rethink was the LCD4 out of the GSX-MK2 and the Sennheiser HE1. They had more in common than not in my opinion. The Stax 009 was more in the detail direction, the HE1 in the realism and body direction. So I sold my beloved KGSShv Carbon and Stax 009!
So the Audeze LCD2-C arrived first. This is a classic re-issue of the LCD2 model made way back when Audeze first started. It was on sale from their website at 700USD!
So the Violetric V281 headphone amplifier powering the Audeze LCD4 200 ohm 2018 version Planars is my current end game headphone system. I am in no doubt the Aries Cerat DAC is having a major influence on the sound. It is the best I have ever heard in any headphone system, and on par to my ears v the Sennheiser HE1, though they are slightly different types of presentation.
The signature of the LCD4 is full, deep, solid and has a fantastically liquid midrange. Detail is all there, it is a step up from the early Planars. Female vocals, orchestral, jazz, heavy rock, it all sounds so natural with zero fatigue. EDM sounds off the scale good. The LCD4 and the Violectic sound amazing, and running it balanced out with the Norne Draug all silver really brings it up to a higher level. It then uses all 4 amps in the V281 and subsequently has more of everything, a lot MORE.
Please post your own headphone journey guys, I post a lot at head-fi, but we need some more action in this section of the forum, touch base with more users here if possible.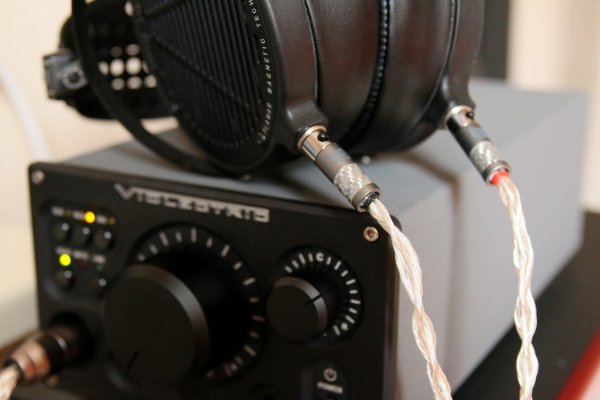 Violectric V281 w. LCD2-C
​
Last edited: