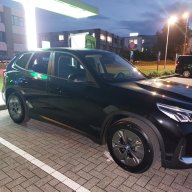 Jan 23, 2011
5,635
774
510
Thanks michel , im glad you liked the design /sound .
When i have the acoustics more in order i ll let you know , so you can have a listen if you like ,and get a better understanding of the system .
Regarding bass impact / extension / system size , i see my competition in the market more in the order of the wilson alexx , rockport altair although discontinued , the new MTM lyra with 2 10 inch woofers is not gonna cut it against the xpe imo.
Because quantity( high quality powered /membrane surface) has a quality of its own , and i think you saw that although we played a symphony of mahler at pretty high spls , the woofers hardly moved .
To fully exploit a design like this one needs a custom noise isolated ( disturb nobody ) treated room , i can only imagine how that would sound like , but its gonna have enourmous impact while staying totally in control because of the resonance free housing/finite element couplers
Last edited: