I believe most A-S owners understand that their amps can operate succesfully without some of their output tubes (OTs) as long as they're removed in left-half/right-half pairs.. My MA-1s are now operating quite well with only 2 pairs of OTs per amp instead of their original seven pairs.. Probably in October, when Phoenix is no longer in summer, I'll add a couple pairs per amp.
After some consideration over a couple weeks including realizing that I still fantasize about the Revel Ultima2 Salon2 systems (with their 4-Ohm impedance), I decided that the MA-1s with their much-higher power were more flexible than the M-60s, so back in they went..
I also bought (from Mouser) new output-stage PS caps (Nippon Chemi-Con 27000/160s) which will be bypassed with Blackgate 470/160s and the SoniCap Platinum (TFTF) 1uFs already in the amps.. I'll select the four closest in capacitance.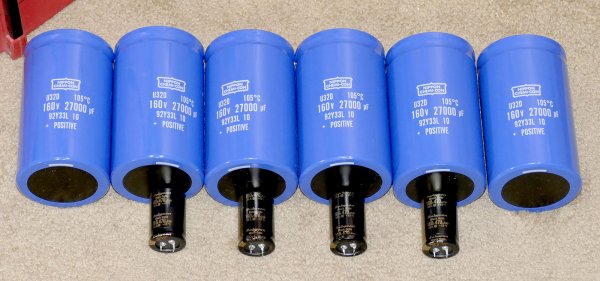 More pics later.
Last edited: