François, the owner of Ana Mighty Sound, is a close friend. Due to the pandemic, I was unable to cross the border to pay him a visit we both had been expecting for a very long time. Having been fully vaccinated over the summer, it was about time to go to Paris.
Ana Mighty Sound' showroom is located in a very quiet street of the 20th arrondissement where you can still feel the true Parisian spirit. Having lived myself in Paris for several years, I had a sense of being projected back 25 years ago whereas the neighbourhood where I lived has suffered from the gentrification and has lost some its charm.
François' showroom is solely dedicated to analogue and operates by appointment only to provide the best customer experience.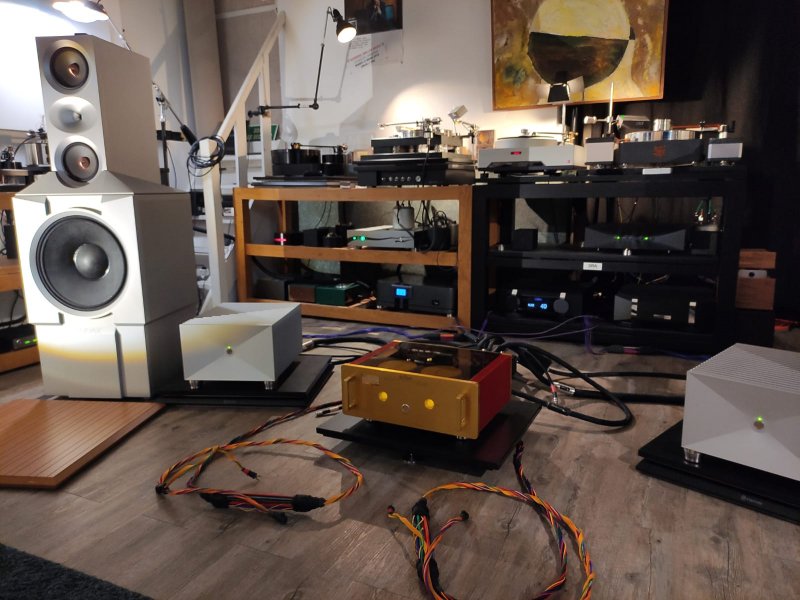 There are no less than 9 turntables on direct display and ready to be played: PTP, Thrax, AMG, Reed, Döhmann and CS Port with multiple tonearms from AMG, Reed, Schröder, Glanz and CS Port. The choice of cartridges is commensurate: Sculpture A - the inhouse brand, Allaerts, Phasemation, My Sonic Lab, Mutech and many others as well as a large choice of step up transformers among others Sculpture A, Phasemation, Thrax and Consolidated Audio.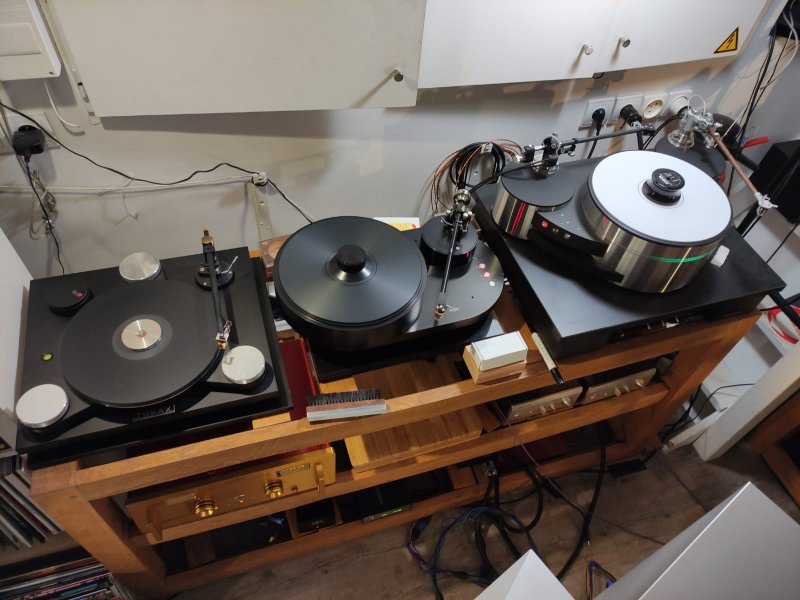 There are two STST turntables and a Garrard 301 in the backroom ready to be set up if need be.
Phono stages are from Sculpture A, Phasemation, CS Port and Thrax.
The main loudspeakers are the Thrax Lyra SE with the active subwoofer Bassus. These high-resolution loudspeakers are driven either by a DarTZeel preamp/power amp combo or a Thrax preamp/mono power amps combo comprising among others the Libra preamp which I am rather familiar with as I own one.
There are several integrated from DarTZeel and Thrax should you wish to go for a more compact system. The new bookshelf loudspeakers from Thrax, the Sirens, just landed should you want to listen to a more diminutive but not less impressive setup.
François distributes Stacore platforms, Elpispandora and Black Cat cables. He has also developed his own phono cables.
Ana Mighty Sound will soon represent the Steinheim loudspeakers and Hervé Deletraz will ship him a pair of DarTZeel NHB 468. I would have loved listening to the Thrax Spartacus 300B but they were not in the showroom during my visit.
Ana Mighty Sound has a tree tier analogue offering articulated around the following turntables:
- Top: AMG Viola Forte, Döhmman Helix 1, CS Port TAT2 and LFT1
- Middle: Thrax Yatrus, AMG Viella and Reed Muse 3C
- Entry: PTP and AMG Giro
I spent almost three days at François' place and he complied with all my wishes.
I listened to all turntables and none of the setups were disappointing. Each of them has its idiosyncrasies. It is a matter of personal taste and budget. Even the « Entry" level offer provides limitless pleasure.
I am currently building a small « office system » which will incorporate a basic turntable hence I wanted to compare some entry level gear namely tonearms and cartridges. In a matter of minutes, the AMG Giro and the PTP turntables were set up with Phasemation PP 200 cartridges so I could make a direct comparison.
The highlights of my visits were:
Top: CS Port LFT1 turntable with the new Sculpture A cartridge connected to a full Thrax system via a Consolidated Audio Silver SUT
Middle: The Reed Muse 3C turntable set up in idler mode with a Reed tonearm and connected to the DarTZeel preamp/power amp combo via a Phasemation EA550 phono stage and a SUT from the same brand
Entry: PTP with a Schröder tonearm and Phasemation PP 200 cart connected to an integrated Thrax via a Phasemation EA350 phono stage and a Sculpture A SUT
If you are in Paris, do not hesitate to call François for an appointment. You won't be disappointed.