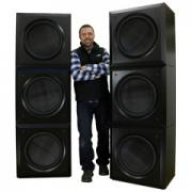 WBF Technical Expert (Speaker & Acoustics)
May 21, 2010
355
75
435
44
How I optimize subwoofers in a system. Take 1
While responding to some questions elsewhere over Sunday morning coffee I found myself with a decent summary on subwoofer optimization using
Room EQ Wizard (REW)
or other measurement systems like the
Dayton OmniMic
or XTZ Room Analyzer. This is by no means comprehensive, as we could flesh out many bullet points on a few of these items, but I thought it was a worthwhile summary to post up before I go ahead and organize the measurements and data on thebland's system. This is a generalized post that won't apply to all systems depending on number of subwoofers, inclusion of manual subwoofer EQ, and features and functions of each surround processor.
To summarize some of my thoughts and experience, here's my suggestion for most attacking their system with REW and other measurement systems:
Take a subwoofer only measurement in your first subwoofer location while noting signal levels to the subwoofer and volume setting.
Do NOT change any signal levels and start moving the subwoofer to any other possible locations saving a measurement at each location. The response should be louder or softer from different locations and you want to see this.
Choose the location with the balance of fewest dips and most efficiency across the subwoofer range.
If you have more than 1 subwoofer, pick locations that compliment eachother where dips do not overlap.
With multiple subwoofers overlay individual responses and then measure both together driven at the same level to see how they sum. Maximum summation of 2 equal sources is +6dB. Unless there is a big peak, the goal is to get the sum to be +0-6dB and not negative. Moving the sub or adding delay to the closer sub is my preferred way to make this adjustment.
If manually EQ'ing, now apply EQ to the subwoofer alone while also watching for peaks out to 120-200Hz that go above the target or above flat flat if no HP is in the measurement.
Now run any auto-EQ/room correction.
Measure the subwoofer alone and center channel alone, then the combination of the two.
Make adjustments to the subwoofer distance setting, most often adding to the physically measured distance at 0-8ms.
Choose the smoothest interaction and adjust the crossovers up or down if you see room for improvement.
If you have separate EQ on the subwoofer you can sometimes improve a lumpy/peaky summation by adding a notch to the subwoofer around the crossover range. The benefit to dialog and music balance far outweighs a small dip to the LFE channel.
Next compare the interaction with the left & right speakers making crossover setting and delay adjustments to get a best fit for both.
The more you listen to movies & surround concerts, the more you should prioritize the center channel vs. left/right.
Now measure what happens when you increase the subwoofer level by 3,6 and 9dB to understand what happens when raising the sub level.
Do some listening and adjust the subwoofer level and/or shape to what you are after, and then re-measure subwoofer-center interaction to insure any ramping up in response you add is as smooth as practical.
Enjoy!
There have been many times when people have asked "What does Mark do that an auto-EQ system or typical enthusiast can't?" when they hear people raving about the results after I get into setting up or adjusting a system for 3-12 hours. My answer is that anyone COULD do it, very few do. Few will take the time to gather all the measurements and learn how to manipulate what they see. I encourage more to be some of the few, or search them out to set up their system.
Last edited: