Hope everyone is well and practicing their social distancing. According to my wife, I got a head start on self-isolating last July after taking delivery of my Ultra 9 speakers.
As I stated in a previous post (
https://www.whatsbestforum.com/threads/von-schweikert-ultra-9s-in-the-house.28568/
), I am a long-time VSA customer having previously owned a pair VR-9 SE for over 10 years. My initial impressions were as expected, the Ultra 9s are an improvement over the old model. What I didn't anticipate, was the continued improvement as the speakers broke in. JackD warned me there would be improvement as the speakers broke in but I wasn't listening too well with the excitement of getting my new toy. Initially, there were improved dynamics and transparency compared to the VR-9s. Around 250 hours the soundstage became more 3 dimensional . Familiar recordings were now full of new information that was previously buried in recordings. On more than one occasion, I found myself startled by sounds coming from unexpected places in my room. Despite the increased soundstage, imaging and voices remained well defined and crystal clear. Dynamics are another area where the Ultra 9s excel in my system. Crank up your favorite Aerosmith or Pink Floyd tune to concert levels and the Ultras 9s don't even break a sweat. No distortion or loss of soundstage with high volume. Those who like music a little softer will find all the detail and imaging present at hearing friendly levels.
As with any star player the supporting cast is just as important too. The VAC Master pre-amp and Statement amplifier are a perfect match for the Ultra 9. I am sure that my Centerstage footers are contributing to both soundstage and imaging I had them in my system with my VR-9's and they may a tremendous difference. (Thank you Steve). I drank the Lampizator Kool-Aid too. My Golden Gate II DAC is making digital so much more engaging (close to vinyl without the hassle). Streaming Qobuz has allowed to me explore music that I would have never consider listening to (Billie Eilish...thanks Mike Lavigne). Masterbuilt cables and power cords are letting the music come through the speakers while keeping unwanted noises out. My initial impression was the noise floor was lower and each musical note had its own individual space and that has improved as well.
Thanks again to Leif and Damon from VSA. In addition to making great the speakers, they were very crucial in helping me to pick components that would create synergy with their speakers. I have never been more pleased with a purchase. These guys are the definition of customer service before and after the deal.
I hope the COVID isolation ends soon, but while I continue to self isolate, I'm in a good place.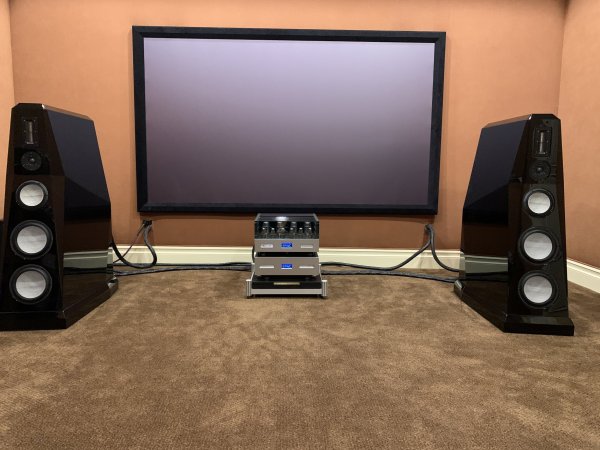 Here are some cuts that I use to evaluate my system
Digital
1. Muddy Waters
Country Boy
Folk Singer
Even if you don't like the blues can't beat the imaging and soundstaging.
2. Talking Heads
Burning Down the House
Speaking in Tongues
I just like to play it L-O-U-D!!!
3. Johny Cash
Bird on a Wire
American Recordings
Less is more with this recording. Johnny's voice is dead center and cuts right through you.
4. Eiji Oue
Exotic Dances at the Opera
Snegurochka (The Snow Maiden): Dance of the Tumblers
Great recording with great dynamics.
Analogue
1. Michael Hedges
Aerial Boundaries
Aerial Boundaries
2. Dire Straits
Dire Straits (Mobile Fidelity)
Wild West End
3. Pat Metheny Group
Pat Metheny Group
Side One ( San Lorenzo/Phase Dance)